Aaron Rodgers Injury Update: Troubling News for Green Bay Packers Fans
Published 11/27/2021, 3:06 AM EST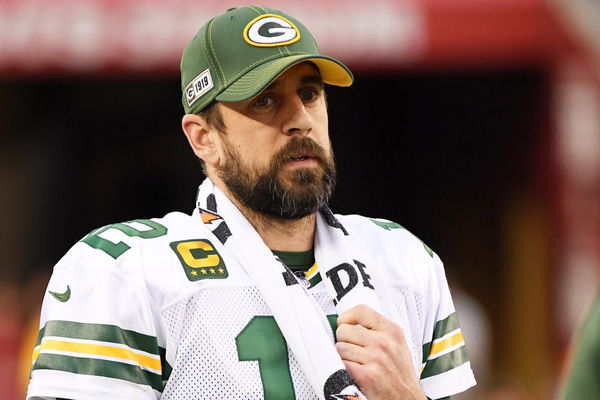 Last week, Aaron Rodgers and the Green Bay Packers faced off against the Minnesota Vikings in what was a tense affair. There were casualties on both sides and the biggest hit was taken by Aaron Rodgers. The star quarterback broke his toe while playing.
Ever since then, there has been a lot of controversy and speculation about his fractured toe. Finally, it looks like we have an answer to the extent of his injury and if he will start against the LA Rams.
ADVERTISEMENT
Article continues below this ad
ICYMI: Green Bay Packers quarterback uses the funniest way to give an injury update at a press conference
During Wednesday's pre-match press conference, the Packers quarterback pulled off the funniest trick in the history of press conferences. As proof for not having 'COVID toe' and reveal his true injury, he put his foot up in front of the camera to show that he has a broken pinky toe.
"I'm glad you asked just so I could show you the lesions of my foot here, so if I have enough room on this camera, let me see if I can," Rodgers said as he lifted his left foot. "Oh, there's no lesions whatsoever. Oh, what a surprise. No, that's actually called disinformation when you perpetuate false information about an individual. I have a fractured toe." HILARIOUS!
Aaron Rodgers was clearly waiting for the COVID-toe question because you can hear him say, "I don't know if I have room to get my toe up there," at the start of his press conference.

Here's his full answer about his fractured toe — with said toe on the screen. pic.twitter.com/hoC2UZTxME

— Rob Demovsky (@RobDemovsky) November 24, 2021
Aaron Rodgers misses practice this week; Coach says will play against the Rams
Ahead of the important clash against the Los Angeles Rams at Lambeau Field, Packers coach Matt LaFleur was asked for an update on star quarterback Aaron Rodgers. LaFleur replied in fine detail explaining how the quarterback is still injured and missed practice.
"Well, he came down to practice," LaFleur said Friday of Rodgers. "He didn't participate in practice, but he was out there and relaying the calls to Jordan, just getting that practice of just saying the playcalls."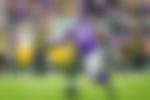 When quipped if the team captain will take the field against the Rams, the gaffer replied assertively with a Yes. LaFleur left no doubt that Rodgers will start, saying, "Yeah, he'll play."
ADVERTISEMENT
Article continues below this ad
ADVERTISEMENT
Article continues below this ad
Big ups to Aaron Rodgers for playing against the Rams withstanding the pain. Hoping that it doesn't backfire for the star quarterback!