Aaron Rodgers Lifted Lid On Awful Blunder By Green Bay Packers Administration That Almost Led To Highly Rated First Round Pick Getting Cut: "It Starts At The Top"
Published 07/30/2022, 10:30 AM EDT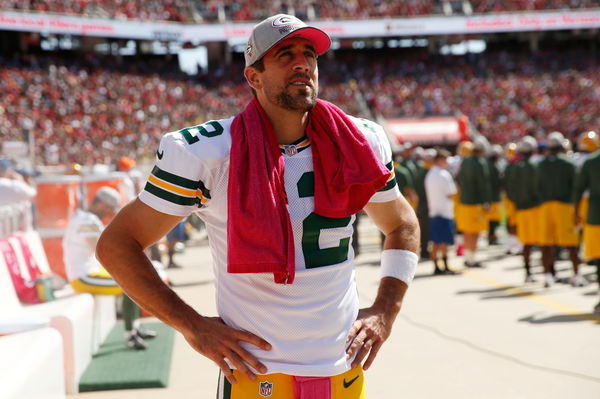 Aaron Rodgers became a hotshot personality in the NFL. But he is also someone who openly speaks on criticism. The QB became a chosen one for the Packers. But he hasn't been afraid to say that he believes Green Bay's administration can run more effectively. Recently, he raised the cap over the Packers' mismanagement when the franchise's No. 1 pick got mistaken for somebody else.
ADVERTISEMENT
Article continues below this ad
Just as impressive as his on-field performance is, Aaron Rodgers' off-field antics are also a thing to observe. Especially during the training camp days, when he arrives as an iconic film character portrayed by Nicolas Cage. Be it him having fun in the camps or speaking to the media, A-Rod is having a good time.
ADVERTISEMENT
Article continues below this ad
Aaron Rodgers engaged in an exchange of views at this year's training camp media scrum. During that time, he made a notable yet shocking revelation regarding one of the franchise's serious blunders. It led to an awkward moment for Kenny Clark after discovering that he might be out of the roster.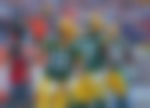 Rodgers mentions via PFT, "There's funny stories — not funny, actually — about like Kenny Clark coming in on cut day and somebody thinking he was a different guy who was gonna get cut. And they told him, 'Grab your playbook and head upstairs.' And Kenny's like, 'What? I was a first-round pick. I'm getting cut? In my third year?' Stuff like just can't happen in an organization that's run well. Because the relationships are the most important thing in this game. Because that's what fuels the chemistry… And it starts at the top."
Really interesting story from Aaron Rodgers about Kenny Clark who thought he was going to get cut heading into his third season.

Rodgers noted that there's been positive changes from the front office in how they manage their relationships with the players. pic.twitter.com/JA1HTTHtTt

— Brandon Carwile (@PackerScribe) July 28, 2022
Luckily for the Packers, things have tightened up on the vessel since Rodgers' extension. Hopefully, everything works properly.
Aaron Rodgers claps back on Davante Adams' HOF comment
ADVERTISEMENT
Article continues below this ad
At the training camp media scrum, the reporters encircle Aaron Rodgers to ask him a few questions. When inquired about the toggle from Davante Adams to Allen Lazard as the starting wide receiver, the QB's opening comment had a zingy reply. He used the term 'Hall of Famer' and kept both Adams and Lazard in the same caravan.
Aaron Rodgers on going from Davante Adams to Allen Lazard as WR1:

"I mean it's always tough going from Hall of Famer to Hall of Famer. From Davante to Allen, it's gonna be a transition, but he's capable of a lot." pic.twitter.com/pBveMG5Qqh

— Matt Schneidman (@mattschneidman) July 27, 2022
ADVERTISEMENT
Article continues below this ad
Davante Adams spoke with CBS Sports and had a similar answer to a similar question. He placed Aaron Rodgers and Derek Carr on the same Hall of Fame pedestal. Rodgers is a classic to even bring it up like that.
Watch This Story: Tom Brady Went to the Same High School As This Controversial MLB Hall of Famer Who Was Also a 14x All Star
Edited By: Gurjyot Singh Dadial