Aaron Rodgers on Bye Week Benefits: 'I'm About to Go Home and it's 12:22 PM. That's Pretty Sweet'
Published 01/13/2022, 11:30 AM EST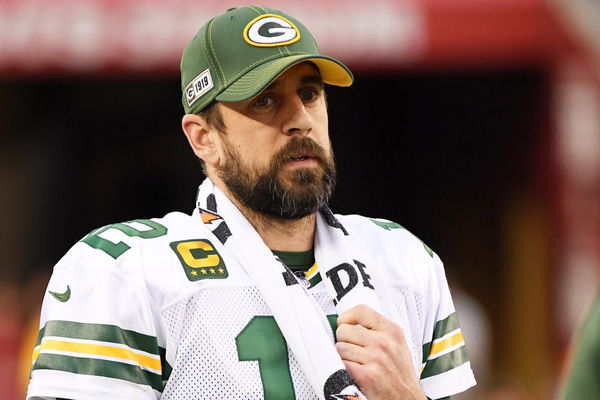 ---
---
Other than the impressive showing by the Green Bay Packers, Aaron Rodgers and his injuries have been a big part of this season. In the later part of last year, Rodgers has been in the news a lot. It seemed like every week we got to hear something about the Packers quarterback.
ADVERTISEMENT
Article continues below this ad
From making controversial statements about COVID to showing his feet to the camera, AR has done it all. But it seems like the postseason bye week benefits might be a good thing for Rodgers. The Packers claim that he will be 100 percent in the playoffs. Rodgers revealed his plans for the laid-back first week of the postseason. 
ADVERTISEMENT
Article continues below this ad
Aaron Rodgers and his injury-prone season
Aaron Rodgers has experienced quite a lot this season. He was phenomenal on the field. He broke Packers' legend Brett Favre's franchise record. But off the field, Rodgers was dealing with injuries. He got infected with COVID a few weeks ago. While in quarantine, the 38-year-old somehow mysteriously broke his left pinky toe. This gave birth to the infamous "COVID-toe" after Aaron gave his injury a name. He even put up his feet during a live interview. 
The injury forced him to take some pain-killing injections in order to play. During the Christmas day game, a few days after his toe had healed, it got injured again. During the win over the Cleveland Browns, Myles Garrett accidentally stepped on Rodgers' Injured toe. Despite being in pain, the Green Bay QB has been impressive on the field. Rodgers has completed almost 69 percent of his passes for 4,115 yards. He has also made 37 touchdowns and just four interceptions. This has been an MVP-level season for the Packers star. 
Rodgers planning to rest in the bye week
ADVERTISEMENT
Article continues below this ad
Recently Aaron Rodgers was asked about his plans for the bye week by the reporters. He said, "Rest. I'm about to go home, and it's 12:22 pm. That's pretty sweet." Rodgers was excited to go home that week.
ADVERTISEMENT
Article continues below this ad
On Wednesday, we saw him participate in practice. It appears that he no longer needs pain-killing injections. Rodgers' only plan is to rest up and prepare for the playoffs. The Packers currently have the Number 1 seed with a record of 12-3. They are strong contenders for the Super Bowl this season. With Aaron Rodgers at 100 percentage, the Green Bay Packers will be a force to be reckoned with. 
Watch Stories: From Jacksonville Jaguars to Chicago Bears; NFL Teams That Need a Clean-Up