Aaron Rodgers Opened Up About His Secret Love Story That Changed His Outlook Towards Life
Published 12/23/2022, 9:00 AM EST

Follow Us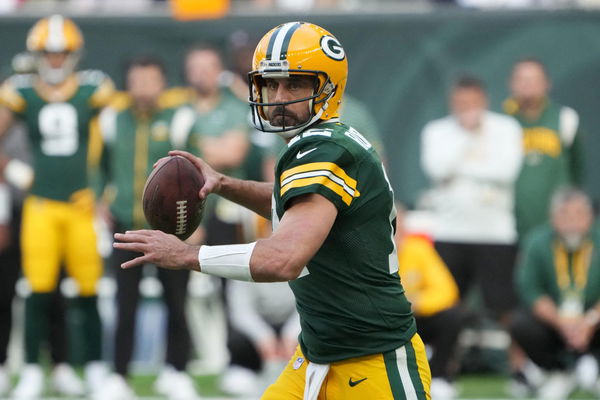 Aaron Rodgers had the fans go untamed after disclosing his affair with ayahuasca. He stirred the pot after making the mega reveal in 2022. The Packers' QB did not have a great season and still has a challenging way to make it into the playoffs. However, his ayahuasca experience is something that attracts more attention than his performance. The quarterback recently revealed his initial experiences with the psychedelic drug.
The Men's Health sat down with the Packers' quarterback and spoke about his three-night ritual for using the psychedelic drug. Aaron Rodgers also reflected on how he had some resistance to the process. But he needed to trust the method when he swigged the hallucinatory beverage.
Aaron Rodgers mentioned via Men's Health, "There's a lot of trust and surrender, I think, is another good word. You have to surrender to the master plant teacher that is ayahuasca, and there's naturally some fear around that. And when you do, some pretty incredible things can happen, as was evidenced by night two of my most recent journey. Night one, I was still a little resistant, and night two, I fully surrendered to the process and to the master teacher, and she was benevolent in her lessons."
ADVERTISEMENT
Article continues below this ad
What is Green Bay's quarterback, the ayahuasca-chugging, vax-shirking four-time NFL MVP, looking for—and can he ever find it? https://t.co/fw4YnUgdBa

— Men's Health Mag (@MensHealthMag) December 22, 2022
"There's a lot of overall happiness that exists when you have a deeper love for yourself. It actually allows you, I feel, to give and receive love better and interact with people with less judgment and less projection. So that's one thing I've really been working on," He added.
Aaron Rodgers has never been shy about his use of ayahuasca. He also said on how the drug helped him overcome one of his biggest fears.
Aaron Rodgers discusses how ayahuasca assisted him in overcoming his death apprehension
ADVERTISEMENT
Article continues below this ad
On Tuesday, Aaron Rodgers showed up on the Pat McAfee show, and his appearance caused quite a stir in social media. Since his hallucinogenic drug intake is no stranger to the fans, the Packers QB1 acknowledged how Ayahuasca and another naturally growing drug helped him overcome his fear of death.
ADVERTISEMENT
Article continues below this ad
Rodgers' response came after AJ Hawk asked the quarterback if he feared dying. A-Rod said he had a fear of death. He did, however, admit that using hallucinogenic drugs helped him see death as more than just a passing and lifted the veil between the visible and invisible worlds.
Watch This Story: Aaron Rodgers Has His Say On Davante Adams Getting Into Legal Trouble
Edited By: Deepika Bhaduri