Aaron Rodgers Reveals He Texted Tom Brady After Beating Him and Tampa Bay Buccaneers: "There Were a Couple of Message Sent Back and Forth"
Published 09/29/2022, 5:30 AM EDT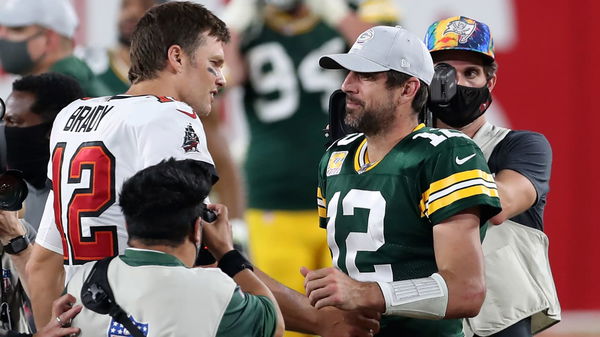 Last Sunday, Aaron Rodgers and the Green Bay Packers defeated Tom Brady's Bucs in a close encounter. Recently, Rodgers appeared on the Pat McAfee Show, where he opened up about having a conversation with Brady after the matchup. 
ADVERTISEMENT
Article continues below this ad
It is worth noting that Brady made an 18-yard run during the game, which got everyone talking because the veteran quarterback hardly does that in a game. During the interview, Pat McAfee and Rodgers made a joke about it but they also praised him. 
ADVERTISEMENT
Article continues below this ad
Aaron Rodgers talks about having a chat with Tom Brady after the week 3 game
When asked about talking with Brady after the game, Rodgers said, "There were a couple of messages sent back and forth and a lot of respect. I mean he knows that, I think he knows that (talking about Rodgers looking handsome). The other night, he got called back, but he had a nice run."
Then, McAfee asked him about TB12 running with the ball and sliding, the 39-year-old quarterback said, "You gotta slide maybe the other foot… if you played baseball, you probably either a right-foot forward slider or a left-foot forward slider and I think he's a left-foot forward, right-foot forward slider, so his left knee is bent, so that's gonna catch the turf and turn that thing around a little bit."
"I was actually wondering if he had the GPS for his top speed on that run. So I was waiting to hear back from that," Rodgers further joked about it. Despite the rivalry on the field, both Aaron Rodgers and Tom Brady have a great relationship and a lot of mutual respect as well.
Packers and Rodgers made a decent start to the season
ADVERTISEMENT
Article continues below this ad
Meanwhile, the Packers had a disastrous start to the season, as they suffered a humiliating loss against the Vikings. Since then, they have improved a little bit, as they won 2 back-to-back games against the Bears and the Bucs, respectively.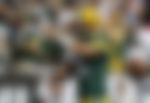 Moreover, a lot of injuries made their start a lot more difficult than usual. Now, it seems like they finally have some good news for the fans, as wide receiver Randall Cobb, kicker Mason Crosby, and defensive lineman, Kenny Clark, are finally out of the injury list. Certainly, this is good news for the Cheesehead as their team will take on the Patriots at Lambeau Field this Sunday. 
ADVERTISEMENT
Article continues below this ad
Watch This Story: Pragmatic Aaron Rodgers wants no part of media's special win narrative against Tom Brady
Can the Packers continue their winning momentum against the Patriots? Let us know in the comments.
Edited By: Gurjyot Singh Dadial