Aaron Rodgers' Rumored Girlfriend Blu Makes an Awkward Move on Hollywood Star Ex Shailene Woodley
Published 07/17/2022, 6:00 AM EDT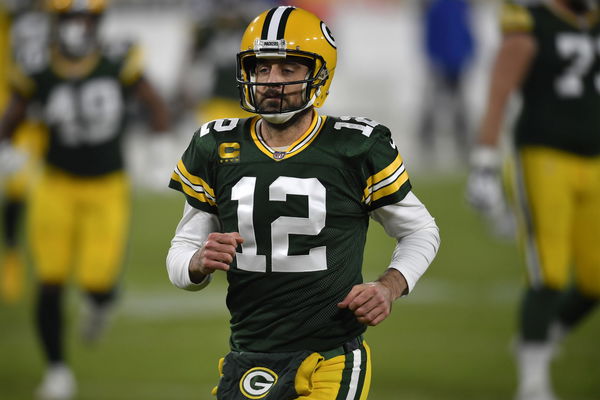 Aaron Rodgers has become one walking and talking highlight reel. He is among the million-dollar megastars in the NFL. But apart from his on-field prowess, his lifestyle and off-field antics makes the NFL enthusiasts stop and learn. Moreover, Blu, his rumored new love interest, is making splashes after a bizarre-looking action on social media.
Throughout the offseason, Aaron Rodgers was circling around the media. The Rodgers-Adams split, the NFL contract situation, he reconciling with Shailene but calling it off, or his new love interest. Everything became newsworthy and attracted the public. Given that Rodgers is among the top QBs in the league, it was bound to happen.
ADVERTISEMENT
Article continues below this ad
Aaron Rodgers and his relationship turmoil was the offseason's prime wave maker. After failed reconciliation with Shailene Woodley, Rodgers did not take long to move forward. Multiple reports stated the Green Bay Packers QB to find new love, who goes by the name Blu. Moreover, as per Side Action, Rodgers' new love interest is up to something. Blu follows Woodley on Instagram and also began liking her posts. In the social media universe, liking pictures of the ex is a strange behavior by novices. Some could believe this is the best taunting ever.
Shailene Woodley and Aaron Rodgers appear to be handling their split differently after officially calling it quits earlier this spring. 👀 Exclusive details: https://t.co/CVMQdeLfJr

— Us Weekly (@usweekly) May 2, 2022
If the dating rumors are true, Rodgers took little time to move further in life. But for Shailene Woodley, it does not look the same. Both seem to handle their situations in their ways. In all of Rodgers' relationships, his breaking up with Woodley was a shocker. Both were engaged and were getting married.
Aaron Rodgers' new tattoo fuels dating rumors with Blu
ADVERTISEMENT
Article continues below this ad
Tattoos among NFL athletes are a common thing to see. But for Aaron Rodgers, it automatically becomes significant. The Packers QB set the internet ablaze after getting his first-ever tattoo. As unique and mesmerizing as it may look, the tattoo has strange objects which have no link to Aaron's career. As per Rodgers' Instagram post, he would share why the tattoo art is so distinct and unique.
 

View this post on Instagram

 
ADVERTISEMENT
Article continues below this ad
Although, the tattoo artist hints upon one thing: The Blu and Aaron Rodgers dating speculations. Interestingly, Blu has a tattoo having similar patterns to Rodgers. Moreover, Hungarian tattoo artist Balazs Bercsenyi handled the creation of both tattoos. It directly hints toward Blu being the motivation for Rodgers to get his first ink. Hopefully, Rodgers will lift the mystery curtain soon.
Watch This Story: Tom Brady Went to the Same High School As This Controversial MLB Hall of Famer Who Was Also a 14x All-Star
Edited By: Gurjyot Singh Dadial