Aaron Rodgers Still Hasn't Repaired Relationship With Brothers; Fuels Rift Rumors During Jordan Rodgers, JoJo Fletcher Wedding
Published 05/21/2022, 11:30 AM EDT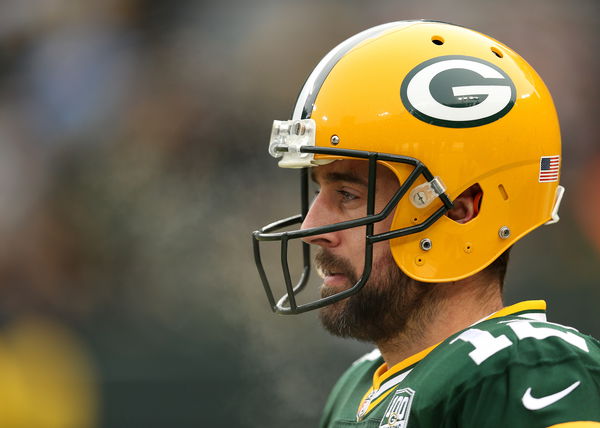 Aaron Rodgers might be one of the hottest creations in the NFL. There also seems to be some of the other chatter in the news regarding the Packers' quarterback. This time, situations have made a feudal turn as this report is concerning the Rodgers Family. Jordan, Aaron's brother, recently married. However, the Green Bay quarterback is nowhere to be seen at the ceremony.
Aaron Rodgers became one highlight of the 2022 offseason because of his uncertain destiny with the Green Bay Packers. Shortly after he reveals his fate, his building relationship with Shailene Woodley came to a stall despite all their effort in reconciliation. While the QB is now prepping himself for his upcoming NFL campaign, he is also making public appearances in NBA games.
ADVERTISEMENT
Article continues below this ad
The Rodgers household could be embroiled in a real-life Family Feud. Jordan Rodgers, 33, and JoJo Fletcher, 31, married on May 14 at Sunstone Winery in Santa Ynez, California. Although Brother Rodgers welcomed each member of the Rodgers family to the momentous moment, Aaron Rodgers was noticeably absent as he did not come to the wedding.
A source says to US Weekly, stating, "It's a sad situation for the family and especially for Jordan, who really does love his brother. Aaron missed out on his big day and that's something Jordan's never going to forget. Jordan invited his entire family, including Aaron. Even knowing he most likely wouldn't attend since they've been distant for a long time now."
ADVERTISEMENT
Article continues below this ad
The enmity appears to be deep, as skipping your brother's wedding, notably after they invited him, is a huge deal.
When did Jordan open up about the Aaron Rodgers-Family conflict?
When Jordan competed on season 12 of The Bachelorette in 2016, which brought to the attention of the Rodgers blood feud, Fletcher toured Chico to meet the Rodgers household for the show's hometown scheduled episode. He notices that Aaron Rodgers was strangely missing.
ADVERTISEMENT
Article continues below this ad
Jordan Rodgers then explains why he wasn't present as he explained it is simply the way he has lived his life. JR remained close to his family, including his parents and brother, Luke. He also mentions that he keeps missing Aaron and also that their separation affects them. He wishes we could all just get home towards being a family.
Watch This Story: From NFL Star Aaron Rodgers to a NASCAR Driver: List of Danica Patricks Ex-Boyfriends
Edited By: Gurjyot Singh Dadial