Aaron Rodgers Talks About the One Throw That Turned Things Around for Him This Season
Published 12/17/2020, 3:34 PM EST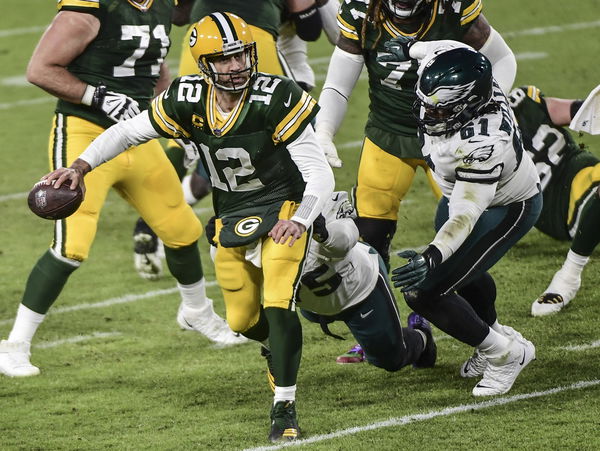 ---
---
Aaron Rodgers is having an MVP-worthy 2020 season. With 39 touchdowns to his name, Rodgers has been silencing his critics game in and game out.
ADVERTISEMENT
Article continues below this ad
Many believe that the Packers drafting rookie QB Jordan Love has had a role to play in Rodgers' age-defying performances. Rodgers, while talking to the media, said that Love's draft has had nothing to do with his resurgence. Instead, it's one throw that turned everything around for the franchise quarterback.
Training camp throw renewed confidence
ADVERTISEMENT
Article continues below this ad
Earlier, during the pre-season training camp, Rodgers said that there was one particular throw that made him believe that this season was going to be different.
A 20-yard, read-stop throw to Marquez, he said, was the one that gave him the belief that he could translate some tactics he worked on in the off-season into the league.
"I've talked about going back and looking at some old film, picking up a few things. I tried to implement in camp and there was this one throw that just turned everything around for me," he said.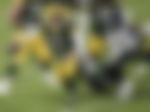 "In training camp, it was a read-stop 20-yard-route. I came up off the fake on one hitch and threw a laser to Marquez. I believe it was on the left side.
"That, to me, gave me a lot of confidence. That the things that I was thinking about and working on visualizing could come to fruition."
While Rodgers acknowledged the fact that training camp success does not always translate into in-game efficiency, he felt that, that one day and particular throw helped him find his rhythm again.
"Now you never know, once the live bullets start going and how are you going to play. But I felt like as far as training camp goes, that was an important day for me.
"And a lot of things changed. For me, as far as my, my balance, my rhythm and timing moving forward."
Charting a new course trajectory
Rodgers said that often in life, there are certain moments that impact one and change how they go about things. And this throw was just that for the veteran QB.
"It is maybe surprising to hear that one throw can do that. But a lot of times it's just something little whether it's in your personal life or your professional life that can kind of take you on a new course trajectory.
"And I feel like that throw, that day, was that for me this year. It gave me a lot of confidence moving forward. That, you know, the work I was putting in, things I was thinking about in training camp could really translate to the regular season," he added.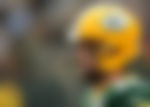 The Packers quarterback said that his success this season is also down to the overall schematic adjustments made by the team."If you look at my play overall, you know, obviously the line has been protected well…
"So when you combine the little intricacies I've been working on with the schematic adjustments that we made, and the playmakers that we have, you know, I think that's been a part of our success this year."
Aaron Rodgers needs no extra motivation
ADVERTISEMENT
Article continues below this ad
Rodgers said that the arrival of Jordan Love has not given him any extra motivation. Rather, it is down to the changes he made to his own game and the team getting used to the new system, which has translated to his success.
"I don't need any extra motivation. I've spoken on this many times. But look, there's a lot of reasons. Year 2, and the system has helped all of us. I think the work I've done on my legs, especially, has helped," he said.
While Rodgers chases a 3rd MVP title, personal accolades will not mean much to the superstar, whose main goal will be taking the Packers back to the very top of the NFL.
ADVERTISEMENT
Article continues below this ad