"Absolutely Not": Titans 3X Pro Bowler's Raw Reaction to Tom Brady Retirement Leaves Fans Up in Arms
Published 02/03/2023, 1:00 PM EST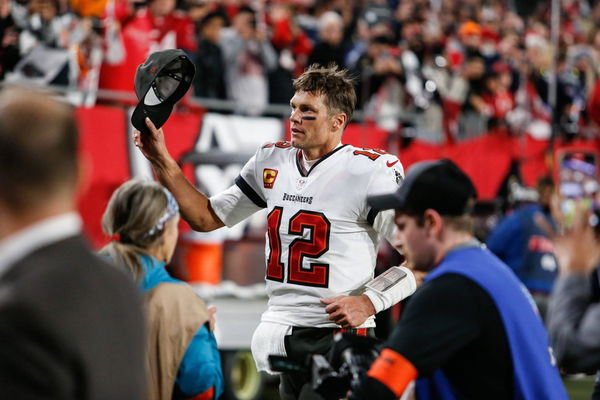 The seven-time Super Bowl champion announced his retirement on February 1. Although it was not shocking considering the way the Tampa Bay Buccaneers played this season, it did make waves in the entire sporting world. The fans of Tom Brady did not like the suggestion of a player after TB12's retirement news went viral. 
Taylor Lewan, an offensive tackle for the Tennessee Titans, suggested that the NFL should consider retiring Tampa Tom's number. Even though this can be something that can be a virtual certainty at the Patriots (no player has worn Brady's number 12 jersey after he took his leave from the team three years ago), many fans were against it. They found that the comment was unnecessary and a little aggressive. 
The NFL World gets furious as they think Tom Brady deserves the honor
ADVERTISEMENT
Article continues below this ad
There are four teams who have retired the number 12. Those teams are the New York Jets (Joe Namath), Buffalo Bills (Jim Kelly), Miami Dolphins (Bob Griese) and San Francisco 49ers (John Brodie).
In MLB, No. 42 was retired to honor Jackie Robinson. There is even a day dedicated to him, that is on April 15. Everyone wears the No.42 on that day. Then in the NHL, Wayne Gretzky's No.99 was retired. He had 936 points. No one could ever come close to that. Finally, in the NBA, Bill Russell's No.6 was retired. He was a 11-time champion and a five-time MVP. 
A fan thinks people should appreciate TB12's contribution to the league without taking the entire no. 12 jerseys out of the league.
Absolutely not. We can appreciate Brady's greatness without taking an entire number out of league-wide commission.

— Brian James (@bjameslive) February 2, 2023
The three-time Pro Bowler himself replied to the tweet and backtracked on his words.
Hell no, that dude is dumb as hell for saying that.

— Taylor Lewan (@TaylorLewan77) February 2, 2023
This user thinks that the Patriots will surely retire his jersey. There, Terrific Tom broke and made impressive records.
This fan wrote:
12 should be retired for the Cowboys because of Rodger Staubach. Not Tom Brady.

— Dalton Goodman (@DaltonGoodman16) February 3, 2023
Retired numbers are supposed to be special for each team. What has he done for the other 30 teams in the league? I think a cooler and more fitting honor would be if the @AP were to rename the NFL MVP award in Brady's honor.

— miami mark (@MarkWardlaw97) February 2, 2023
ADVERTISEMENT
Article continues below this ad
No way. They retired Jackie Robinson's number in baseball because he broke the color barrier. Jim Harbaugh broke the NFL's unathletic white Michigan QB barrier a full decade before Brady was even drafted.

— Lin Elliott's Ghost (@LinElliotsGhost) February 2, 2023
Along with New England, Tampa Bay Buccaneers could also retire his jersey because, in three years, he won one Super Bowl title and advanced to the playoffs three times.
ADVERTISEMENT
Article continues below this ad
Without any doubt, Tom Brady is an outstanding player. There will never be another play who will play like him and break his unbelievable records. But do you think the league will retire the No. 12 in honor of TB12's incredible career? Let us know in the comments.
Watch this story: Tom Brady Went to The Same High School As This Controversial MLB Hall of Famer Who Was Also A 14x All-Star