Adult Film Star Johnny Sins Features On Minnesota Vikings Jumbotron During Military Tribute
Published 11/21/2022, 11:30 AM EST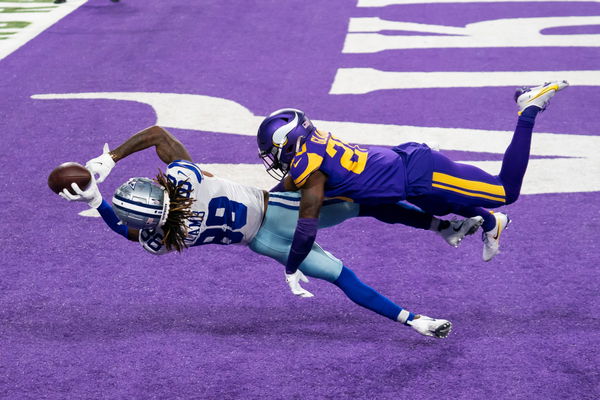 In the sensational game between the Purple People Eaters and the Doomsday Defence, something unbelievable happened. The Minnesota Vikings made a grave mistake by displaying the super popular adult movie actor on the jumbotron.
The Vikings wanted to make a respectful tribute to all the hardworking servicemen. They asked fans on Twitter to send stories of their family members who are serving or have served in the military. Certainly, this is an adorable and heartfelt way to recognize the work soldiers do for the country. However, one fan thought it would be funny to submit his story about his cousin 'Joel', who actually was Johnny Sins. Yes, the same actor who is famous for portraying characters from different occupational backgrounds.
ADVERTISEMENT
Article continues below this ad
"This is my cousin who served in the Army. He has always been an inspiration and someone I look up to for his heroism," the tweet read. "He is also a HUGE Vikes fan."
However, fans did not find this funny when the team tried to honor the veterans. If this was an honest mistake or a joke, one will never know. Along with this slip-up, there was another matter that happened on television that made fans upset.
CBS took a big decision when the Cowboys were edging the Minnesota Vikings out
The Dallas Cowboys brought terror onto the field when they managed to defeat the fan favorite, the Minnesota Vikings. In the historic 40-3 victory, Dallas played one of their most remarkable matchup at the U.S. Bank Stadium. 
ADVERTISEMENT
Article continues below this ad
The Cowboys bullied the Vikings by not allowing them to score any touchdowns. America's team scored four touchdowns and four field goals. Minnesota is now 8-2, and the Boys improved to 7-3. Even though the Vikes suffered a loss this week, they still are the second-best in the NFC. 
There's an entire quarter left to play and CBS has blacked out the #Cowboys vs. Vikings.

Funeral service.

— Patrik [No C] Walker (@VoiceOfTheStar) November 20, 2022
ADVERTISEMENT
Article continues below this ad
The fans were watching the Big D smash the men in purple and gold, but CBS made an astonishing decision. The game was taken off of television. This happened in the third quarter. An entire quarter was remaining, but the network aired the thrilling Pittsburgh Steelers vs Cincinnati Bengals game. Surely, CBS made thousands of fans upset. However, it was a happy ending for them. 
Watch this story: Tom Brady Went to The Same High School As This Controversial MLB Hall of Famer Who Was Also A 14x All-Star
Edited By: Gurjyot Singh Dadial