"After Taxes? That's like 725k": With No Intention to Retire, Former CB Put Self-Worth Ahead of Last Shot at a Ring
Published 03/10/2023, 7:19 AM EST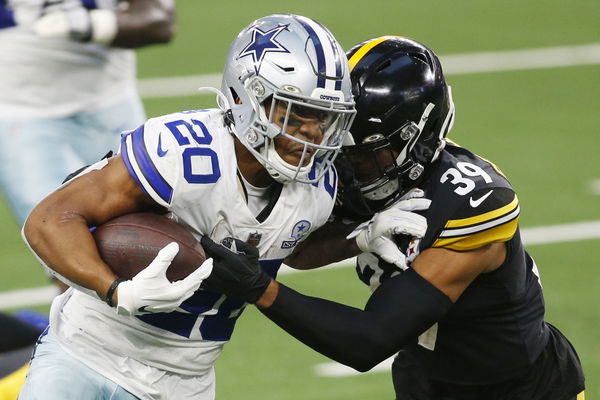 The NFL world has witnessed the longevity of careers in the league because of stars Tom Brady and Aaron Rodgers.  Therefore, hearing about young, talented players' retirement always comes as a surprise. While many athletes are released within a short span, news of younger, more capable stars' departures always stirs up discourse among fans.
After the Pittsburgh Steelers decided to release CB Joe Haden, the 33-year-old may have had plenty of offers from other teams. However, none of them enticed him enough to remain within the league. While other stars of the same age like Tavis Kelce, are winning Super Bowl rings, why didn't Haden stick around to give the title a shot? Here's what he said in response to the big question.
Joe Haden justified his retirement
ADVERTISEMENT
Article continues below this ad
Featured on the 'I AM ATHLETE' podcast, Joe Haden delved into the reasoning behind his retirement in 2021. The CB emphasized that he had no intention of putting his playing career to rest. However, the circumstances surrounding the negotiations of his contract didn't give him many reasons to continue his tenure with the league.
When asked about how he knew that it was time to retire, the CB said that he never came to that conclusion at first. Haden said,  "I didn't plan on retiring this year. I wanted to do at least one more season, but the money wasn't right. It wasn't worth it. They were offering me $1.5-2 million. I could've went [sic] to probably eight teams for sure." While his reasons make sense, how did Haden give up on his quest for a Super Bowl title?
In response to the big question, the CB delved into his body's capacity to endure the toll, alongside the compensation that was being offered. He said, "It was my body. It was like, 'Is that really worth it?' I'm good, I really got all my stuff together and 1.5 (million) after taxes, that's like 725 thousand, I'm living my lifestyle." While it is surprising, it is not unusual to witness the retirement of players in Haden's age group as some of the biggest names in the game have done it in the past.
Haden isn't the only 33-year-old who has retired
ADVERTISEMENT
Article continues below this ad
Rob Gronkowski, who has established himself as one the greatest in the game, surprised the NFL world after announcing his retirement twice. While many believe that Gronk has much more to give, the 33-year-old TE decided to leave the field unlike his good friend and teammate Tom Brady (who has recently retired aged 45).
 

View this post on Instagram

 
ADVERTISEMENT
Article continues below this ad
Coming back to the matter at hand, Haden explained his need to spend time with his family and how his retirement enabled him to do so. His decision also makes sense from a monetary perspective. The CB would've stayed with the league if a franchise offered him $5 million per season. But his time with the NFL has already made him financially stable. So, the choice between putting his body through a few more years of grueling regiments and bodily contact versus heading home to his family was quite clear. And from the looks of it, Haden is more than content with his choice.
WATCH THIS STORY: Tom Brady reveals the worst kept secret about NFL holdings