After Tom Brady, The Next Potential NFL GOAT Poised to Grace Germany in 2023 After Hugely Successful Buccaneers vs Seahawks Game
Published 11/15/2022, 3:00 PM EST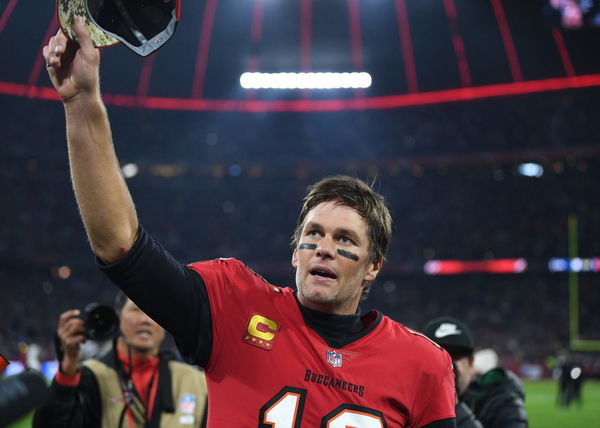 Germany played host to their first NFL game in the history of the league. The Germans witnessed something that couldn't be more American – a Tom Brady victory. Brady and the Tampa Bay Buccaneers defeated the Seattle Seahawks 21-16 and entertained the crowd with some good football.
Home to football club Bayern Munich, the packed house at Allianz Arena did not disappoint as they cheered, sang and even booed, making the game an electric spectacle.
ADVERTISEMENT
Article continues below this ad
Now, recent rumours suggest that Brady's former team New England Patriots and the Kansas City Chiefs will be heading to Germany next year.
The Chiefs and Patriots both have strong fanbases in Germany. German fans have a soft spot for Patrick Mahomes and Tom Brady. Mahomes in particular is beloved by German fans. The Bucs versus Seahawks game seems to be the beginning of what could be an annual event over the next three years.
Fans catch a glimpse of Patrick Mahomes
Radio presenter Will Gavin from talkSPORT shared a picture of a billboard of Chiefs tight end Travis Kelce in uniform with the Chiefs' logo.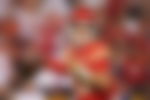 His tweet read, "Looks like it's the Chiefs coming to Germany next year as rumoured!" Gavin also mentioned that this picture was spotted on the way to the Munich airport.
The NFL world reacted to this news with fervor. One user made an observation.
Lots of Pats and KC jerseys at the game yesterday, the demand for these games will be just as big

— Steve (@steve_toft) November 14, 2022
This user said that Travis Kelce had also mentioned this.
Travis Kelce said it on his podcast too.

— James Scholey (@JamesFromLeeds) November 14, 2022
One user could not believe it.
Another user is heading to Germany.
Looks like I'm going to Germany next year..

— Anthony Meyer (@AnthonyMeyer17) November 14, 2022
This user looks at the advantages.
ADVERTISEMENT
Article continues below this ad
the beer is probably cheap at the game. that's a win

— Big B (@MrBigAzzB) November 14, 2022
It seems like the league is looking to expand their international base. ESPN reports Spain and France could potentially be on the league's radar for international games. NFL commissioner Roger Goodell has reportedly said that the league will have at least four games in Germany over the next four years.
ADVERTISEMENT
Article continues below this ad
With Munich's turn completed this season, making it the fourth international game, the San Francisco 49ers and Arizona Cardinals will head to Mexico next. The three other international games were played in London prior to Munich.
Watch This Story: Brittany Mahomes drops jealous comment after Patrick Mahomes and Travis Kelce bromance takes Chiefs to 4-1 with bf win against Las Vegas Raiders