Alabama HC Nick Saban Says Kyle Shanahan and 49ers 'Didn't Ask' Him about Mac Jones
Published 04/08/2021, 5:30 AM EDT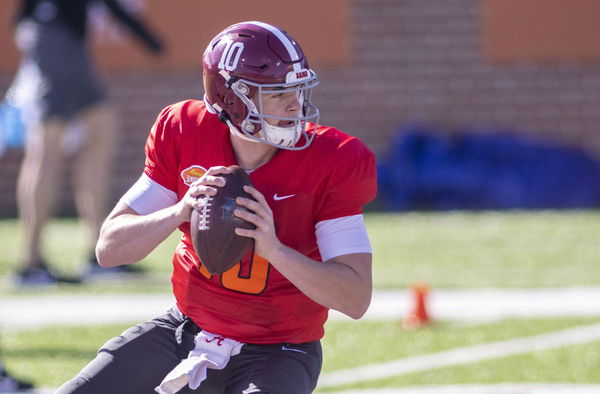 ---
---
Mac Jones is one of the top-scouted quarterback prospects in this year's draft. The Alabama quarterback had an excellent season as he won 2 national championships.
ADVERTISEMENT
Article continues below this ad
Jones has drawn comparisons to Tom Brady, for his style of play and overall passing range. However, according to Nick Saban, one franchise hasn't been asking questions about the quarterback.
Alabama Head Coach Nick Saban spoke on the Dan Patrick Show. When asked if Kyle Shanahan and the San Francisco 49ers asked about him Mac Jones, Saban gave an unexpected response.
ADVERTISEMENT
Article continues below this ad
"He didn't ask me a thing. Didn't ask me a thing. I said hi to him, they did not ask me a thing about him. They didn't ask me a thing."
Saban's admission comes as a genuine shock. The San Francisco 49ers traded their way up in the draft, sending their 12th pick, along with a few future draft picks to the Miami Dolphins.
The 49ers now occupy the 3rd overall draft pick, and many expected them to take a high-level quarterback with that pick.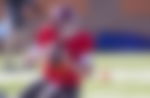 Mac Jones no longer an option for San Francisco?
Most recently, Mac Jones was linked to the 49ers, because of Justin Fields' draft stock plummeting. Jones was a player that many believed would be perfect for Kyle Shanahan.
Jones' style of play as a quarterback is very conducive to Shanahan's offensive plan. However, if the 49ers are not looking to bring in Mac Jones, Justin Fields could be a major option for them to consider.
But there is another angle that should be looked at. The 49ers still have Jimmy Garoppolo in their ranks and could use the 3rd overall draft pick to select a solid offensive player like Jaylen Waddle or DeVonta Smith.
However, they would be letting some strong quarterback options go for wide receivers that shouldn't be a priority for them. Jimmy G has not worked out for the 49ers so far, and they should consider looking for a new quarterback.
ADVERTISEMENT
Article continues below this ad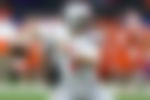 Will the San Francsico 49ers pick Mac Jones? Perhaps them not asking any questions about Mac Jones is because they have already made up their mind.
However, they may also have lost interest in him as a quarterback prospect, and looking to hedge their bets to another quarterback prospect like Justin Fields.
ADVERTISEMENT
Article continues below this ad