Alabama Head Coach Nick Saban Reveals How He and Patriots' Coach Bill Belichick Broke NFL Rules in the Past
Published 02/20/2021, 5:10 AM EST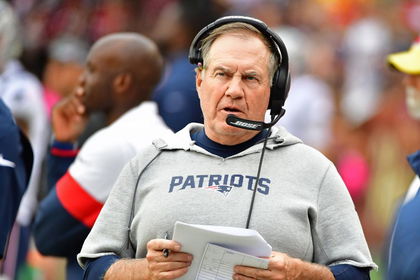 ---
---
Bill Belichick is one of the greatest coaches of all-time. Under his tenure, the New England Patriots became the most successful NFL franchise in history.
ADVERTISEMENT
Article continues below this ad
According to many, Belichick is one of the reasons for Tom Brady's success in the NFL. While this season was difficult for Belichick, he is still widely respected across the NFL.
Alabama Head Coach Nick Saban spoke to Rich Eisen recently and opened up about his shared history with Bill Belichick. They became friends several years ago and built a relationship over their mutual love for football.
ADVERTISEMENT
Article continues below this ad
Their friendship was born because Belichick's father was his colleague while they served in the military together.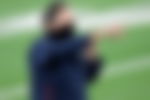 "When I was at the Naval academy, Bill's dad Steve was my office mate in 1981," Saban said. "And Bill used to come home in the summer and see his parents, and I think we were both still in our 20s in those days.
"We used to get together and talk ball and Terry and I, my wife and Bill's parents were pretty good friends and we'd get together and do things."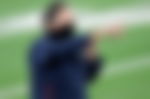 Bill Belichick and Saban break the rules
Saban noted that their careers went in different directions somewhere down the line; however, their mutual love for football endured.
The duo would often speak to each other about football whenever they met. But once Bill Belichick got a job with the New York Giants, that restricted their ability to communicate, because of the rules of the league.
He said, "So that's when I first got to know him and then we just kind of built a relationship and we'd meet and talk ball after that, even when I was at Michigan State, or Houston Oilers. He was at the Giants. In the NFL, you're not allowed to do that." 
Saban revealed that he and Bill were able to break the rules. While Belichick was coaching with the Giants, he and Saban met at a neutral location to discuss football with each other. He joked that no one would try to punish them or be upset it about now that he revealed it.
ADVERTISEMENT
Article continues below this ad
"So I remember one time we snuck to West Point, I was at Houston and Jerry Glanville said you can't talk to anybody else in the NFL.
"Bill's at the Giants and they had a rule you couldn't do that so, we snuck up the West Point, stayed in a little hotel up there, and talked ball all weekend so, I guess those two guys wouldn't get too mad at us now."
Will Bill Belichick win another Super Bowl? He is still one of the best coaches in the NFL. And if he can acquire some key players, he can make a serious playoff run.
ADVERTISEMENT
Article continues below this ad