Almost Fully Exposed Eli Manning Jumping Weirdly Sets the Internet on Fire
Published 03/18/2023, 4:42 AM EDT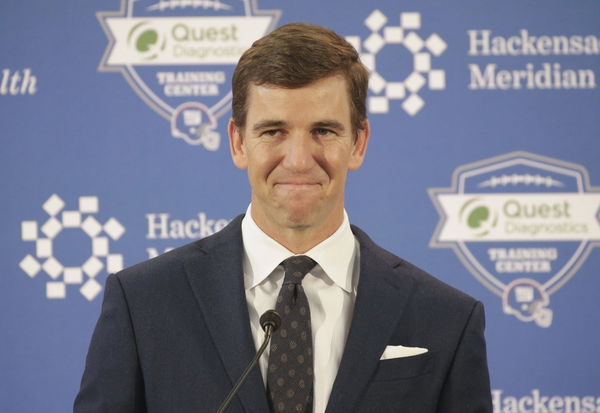 Eli Manning is a certified legend for the New York Giants. The former quarterback was one of the best in the game during his prime days in the NFL. People consider Eli and Peyton Manning the golden siblings of the NFL. Despite the healthy internal competition between them, they took the field by storm for their teams. Both the brothers have now retired from their professional football careers. Eli Manning was not very social media savvy during his days with the Giants. But after retirement, Eli has taken his social media game up a notch.
The former quarterback has broken the internet by sharing a weird photo of himself celebrating spring break.
Eli Manning shares spring break photo with fans
ADVERTISEMENT
Article continues below this ad
The former quarterback recently took to Twitter to share a photo of himself enjoying spring break. In the picture, we see him jumping weirdly with both hands behind his head into a lake with the caption "Spring Break!!" It looks like Eli is thoroughly enjoying his life after retirement and there is not a single worry visible on his face. This photo has made Eli the talk of the NFL world again.
Fans took to Twitter to share hilarious reactions to this weirdly relaxing photo of Eli Manning during spring break.
Talk about living your best life 🫡

— Mike Torres (@TorresLog) March 16, 2023
Peak male performance

— KadenWantsWs (x- 51-10-5 107) (0-0) (@KTS_OGBNG) March 16, 2023
I can see why Eli stayed off social media during his career 🤣🤣🤣

— NinTemple (@NinTemple) March 16, 2023
ADVERTISEMENT
Article continues below this ad
The two-time Super Bowl winner is a figure in the NFL who is loved by fans both on the field and off the field. Eli was a golden boy for the Giants during his prime, as he led them to two Super Bowl victories against NFL GOAT Tom Brady's Patriots. While Brady won six Super Bowls with the Patriots, he had to give away two chances because of the challenge that stood in front of him in the form of Eli Manning.
Eli a certified Giants legend
Throughout his career with the Giants, Eli made many memorable plays that still echo in the minds of fans. One of the most memorable plays in the franchise's history will be his pass to former player Odell Beckham Jr. OBJ flew in the air to catch the ball passed by Eli for a 43-yard touchdown pass. People will remember the iconic Giants play as "the catch" through the times to come.
ADVERTISEMENT
Article continues below this ad
Do you remember any other iconic moments of Eli Manning's career with the New York Giants? You can share more iconic moments with us in the comments below.
Watch this story: Surprising twist in Gisele Bundchen's love life involves NFL GOAT Tom Brady connection
Edited By: Abigail Kevichusa