"Alvin Kamara is Black Panther-Like" – New Orleans Saints Player Lauds Star Running Back
Published 10/02/2020, 10:15 AM EDT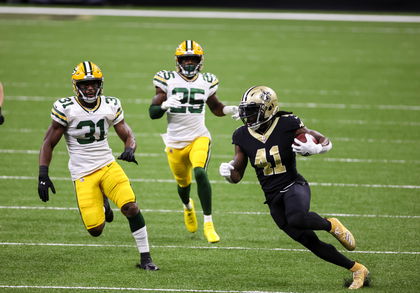 ---
---
The New Orleans Saints enjoyed a commanding win on opening day against Tom Brady's Tampa Bay Buccaneers. However, they've failed to win ever since. Now, they find themselves struggling on a two-game losing streak. Despite the losses, seasoned NFL running back Alvin Kamara has been the standout performer in an otherwise average Saints offense.
ADVERTISEMENT
Article continues below this ad
Kamara leads the league with six touchdowns. He also has league-leading numbers with 438 yards from scrimmage and a healthy 7.6-yards per touch.
ADVERTISEMENT
Article continues below this ad
Read: "Baker Mayfield is Playing for His Job"- Former NFL Man Talks Up Cleveland Browns Quarterback
Alvin Kamara is looking to build on the strong start to his season
Terron Armstead said Alvin Kamara is Black Panther-like.
That could be the most fitting description I've ever heard.

— John DeShazier (@JohnDeShazier) September 28, 2020
New Orleans Saints running back Alvin Kamara has made a strong start to his 2020 NFL campaign. His team might not be doing that well in the league, but individually, Kamara has shone throughout. Teammate Terron Armstead even compared the seasoned running back to mythical Marvel superhero, Black Panther, most recently portrayed by the late Chadwick Boseman.
Here's what Kamara said about his offseason prep, which helped him take his game to another level.
"I think that's the biggest thing that I've been focused on, just getting back healthy. Blessed to be able to do that, and we're rolling. Trying to get the wins, of course, but I'm feeling good personally.
"I feel great. I think last year I started off great and unfortunately, got injured. This year, coming back, it's something I had to prove to myself, just to get back to regular form," Kamara said via the team's official website.
Matt Patricia wary of the threat posed by New Orleans Saints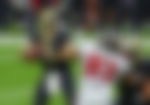 Detroit Lions head coach Matt Patricia also heaped praise on Kamara, who has been terrific since the league began in September.
"I think obviously he's going to run the ball, and he's extremely good at the run game, and I think the stretch game that they run handles a lot of things that he does well. He has great vision, he has great bursts, he's explosive. He can get through the line of scrimmage quickly. So he's a hard guy to tackle – we all know that. Those are the things I think they do well in the run game.
"Then the pass game, he's just dynamic. You get the ball in his hands in space, whether it's the wide routes, the checkdowns – they'll empty him out, send him vertical. He has tremendous speed. Sometimes I think he's deceptive on how fast he really is or how quick he's moving. He's such a smooth athlete that sometimes you may take a bad angle or poach angle and you see a lot of guys miss tackles on him from that standpoint."
"You really have to do a great job to close that space, but just know how quick and dangerous he is to be able to cut across your face and get back into that open field. Really great player for them," Lions coach Matt Patricia addresses the upcoming game against the Saints.
The Saints face the Lions on Sunday in their Week Four encounter of the 2020 NFL season. They are currently on a 1-2 record after losing their last two games to Las Vegas Raiders and the Green Bay Packers.
ADVERTISEMENT
Article continues below this ad
Meanwhile, the Lions pulled off an upset in Week Three against Arizona Cardinals. They will back themselves to improve on that with quarterback Matthew Stafford firing on all cylinders.
Read: Los Angeles Lakers Legend Magic Johnson Lauds 'Special Player' Patrick Mahomes
ADVERTISEMENT
Article continues below this ad