Amidst Broncos Burnout, 23 YO Teammate Calls Russell Wilson "Amazing Dude"
Published 12/31/2022, 12:13 PM EST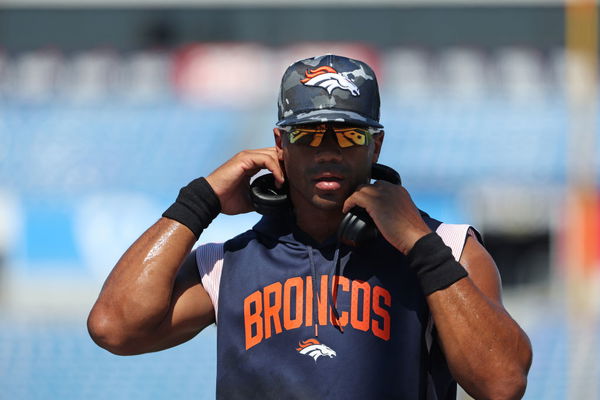 The Denver Broncos were hoping for a deep playoff run this season. Especially after making an ambitious play for former Seattle Seahawks QB, Russell Wilson. The team traded a plethora of future picks and gave a $242 million contract extension to the player establishing their trust in the 34-year-old star. However, the fan's hopes are now squashed as the team finds itself sitting on a 4-11 record.
The fans and experts have held the QB as one of the main culprits for the poor season. Wilson has been receiving a lot of criticism from analysts, fans and even his ex-teammates. But now it seems that there is a change in the general theme for this season. Broncos' WR KJ Hamler came out in defense of the player and called him, "An amazing dude."
ADVERTISEMENT
Article continues below this ad
The 23-year-old revealed the deep impact that Russ has made on his teammate. "He just got me through a lot. Him and his family has been a tremendous impact on me," explained Hamler.
"I'm not gonna let anybody talk down on Russell Wilson at all. Russ is a great dude. He does everything he needs to do, to prepare and to put us in better position to win. He is probably one of the hardest working people. People can call him corny, people can call him whatever they wanna say, but he inspires me a lot. I look up to him," he added.
In between a whirlwind of criticism and bashing from the world. Hamler implored the fans and all the people to respect the players and Russ as human beings. "You don't know what anybody on this team is going through. So just respect us as human beings first and then look at us as football players," Hamler said.
ADVERTISEMENT
Article continues below this ad
Jerry Jeudy slams false statements about Russell Wilson
Prior to the 23-year-old, another wide receiver on the team jumped in to clear Russ' name. Jerry Jeudy tweeted out his support for the QB, following news of his personal office and parking spot in the Broncos facility. In the tweet, Jeudy wrote, "I ain't gonna keep looking at these false statements about my boii russ….. He got an office because he's committed his life to this game. I never had a teammate who motivate me more than Russ".
ADVERTISEMENT
Article continues below this ad
On Thursday, the WR expanded on his opinion about his teammate. "The media (is) trying to make it seem like something it ain't, y'all don't know what's going on in the locker room," Jeudy said. "I'm just tired of reading things about my boy, making it seem like 'oh he's not a good teammate' … unnecessary stuff that's not true," he added.
Watch this story: Russell Wilson's Broncos are in self-destruct mode after defensive player seemingly shouts at the $242 million QB