Amidst Injury, Lamar Jackson Shares An Iconic Phone Issue That Upsets Its Hardcore Fans
Published 12/31/2022, 6:00 AM EST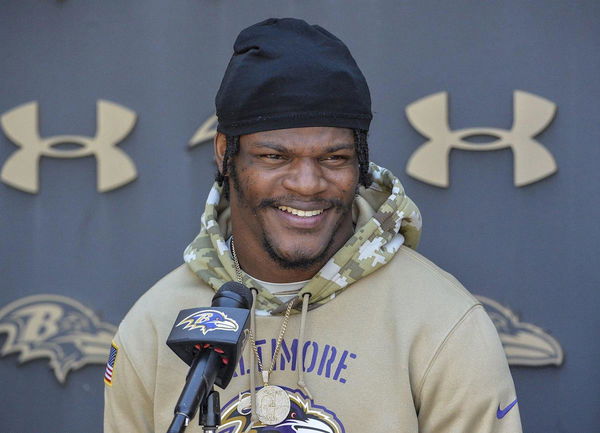 On Week 13, the Baltimore Ravens recorded a win against the Denver Broncos. While the win should have made for a happy camp, the fact that former MVP and Ravens' starting QB Lamar Jackson suffered an injury made for some concerning evening. The 25-year-old has not yet returned to the team. But the popular figure has still managed to engage with the fans on a regular. Especially with his latest Twitter activity, highlighting a popular phone issue.
Why doesn't a charger come with the iPhone anymore??

— IG MikeDavisRB (@MikeDavisRB) December 30, 2022
ADVERTISEMENT
Article continues below this ad
On Friday, Lamar retweeted a post from Mike Davis. The post in question brought up a globally common pain for iPhone lovers. While Apple has discontinued the bundling of chargers or accessories with their phone since the release of the iPhone 12 series. Smartphone enthusiasts haven't really gotten used to the new strategy by the tech giants.
Fans respond to Lamar Jackson and Mike Davis
The QB and RB duo had a lot of engagement from the fans on this particular post, as it seems to have struck a chord with almost all the fans.
One Twitter user wrote, "C Cord no block." Highlighting the fact that one would have to buy them separately.
This fan laid out his plan to switch his phone following the change in product bundling.
that's why i stop supporting, once this phone i own breaks switching to Samsung. How do you pay well over 1G for a phone and shit don't even come w a charger lol whaaaat..???!

— Gabriel Hernandez (@GMoney24_) December 30, 2022
Meanwhile, many others had the same thing to say.
Been trying to figure out why we get a C chord without a C block

— Michael Beezy (@getlikeme1823) December 30, 2022
Here are some replies by people who tried to give an explanation for the strategy.
@Apple claims it's less waste but truth is they don't care about waste. If they did they'd use USBC like everyone else. It's better business if they can sell you a phone and then a charger on top of the phone purchase. This is why they do what they do. It's all about money 🤑

— Michael Harmon (@Memyselfnmike_) December 30, 2022
So Apple can make as much money as possible

— BigBoxEntertainment (@BigBox716) December 31, 2022
They say it's for "environmental reasons" and it helps reduce the "carbon footprint" and "plastic waste" for each unit sold. But then you buy the charger separately in its own packaging, effectively using 2x the packaging material. Total scam.

— Cole 🐬🏈 (@ColeTalksFins) December 31, 2022
Although the QB is away from the turf, it seems like, with this important question, he has found a good way to pass his time.
ADVERTISEMENT
Article continues below this ad
Things are not looking good for the Ravens
The Ravens have already clinched a spot in this year's playoffs. However, the chances that their trip to the postseason will be without their star QB seems more and more likely. According to reports, the former MVP has missed 12 straight practice sessions following his PCL injury. The bigger worry this week came with the development that Jackson was not coming to his own treatment.
Team head coach John Harbaugh was questioned about the player's absence from the practices. But the 60-year-old deflected the subject by saying, "I'm just coaching the guys that are out here." 
ADVERTISEMENT
Article continues below this ad
This is also the last contract year for Jackson, who is yet to commit to a new deal with his team. So it is more than probable that the player is prioritizing his health over any playoff games. The healthier the player, the healthier the contract offer.
Watch this story: Lamar Jackson reveals the reason why deleted the highly controversial tweet.
Edited By: Deepika Bhaduri