Amidst Transition, $150 Million Derek Carr Thanks This NFL Legend for Saints Deal
Published 03/12/2023, 8:45 AM EDT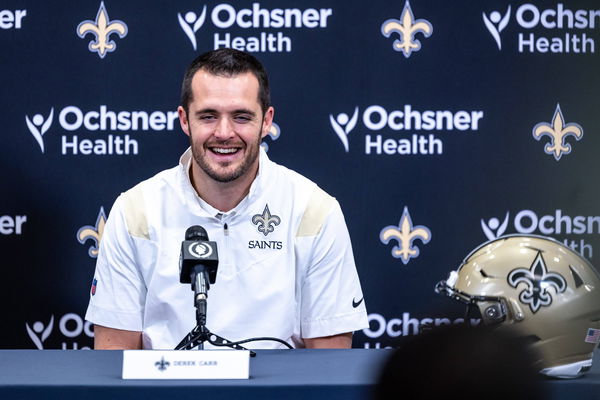 The New Orleans Saints have set the motion for a busy off-season. In what we consider a major splash for them, they have signed former Las Vegas Raiders QB Derek Carr to the team. This means that one veteran is off the table from the QB market, and other teams will have to follow up on this. Amidst a troublesome departure from the Las Vegas Raiders, Derek Carr is excitedly looking forward to a new journey with his new home, the Saints.
In the midst of this major transition taking place, the 31-year-old QB took his time to show his gratitude towards an NFL legend who helped him in this transition.
Derek Carr extends gratitude toward Drew Brees.
ADVERTISEMENT
Article continues below this ad
While Derek Carr takes his time to settle down in his new home, he expressed his thanks and gratitude towards former Saints QB Drew Brees. Carr thanked Brees during an interview for his immense support during the transition and also for being there to help Carr in times of doubt.
 

View this post on Instagram

 
During the NFL Combine 2023, Derek Carr also met up with the New York Jets and the Carolina Panthers for a possible contract negotiation. Apart from this, the quarterback had visited the Saints on February 14, before being released by the Las Vegas Raiders as a free agent. The signing will bring Derek Carr and head coach Dennis Allen back together.
ADVERTISEMENT
Article continues below this ad
Derek Carr and the New Orleans Saints signed a four-year, $150 million contract with a guarantee of $100 million. The contract also includes a no-trade clause for the QB, just like the one he signed with the Raiders.
A new revamped Saints with Carr in the mix
We always knew the New Orleans Saints for their explosive offensive power. But what they lacked in the field was limitations in the quarterback position. Now with the signing of Derek Carr, the Saints can look forward to a more holistic strategizing for the upcoming NFL season.
ADVERTISEMENT
Article continues below this ad
Apart from this, the signing of Carr means that there is one option less on the table for teams who require a quarterback for their club. The Jets considered Carr as a safety net if Aaron Rodgers couldn't come through. Now, they do not have that option in their pocket anymore. It will be interesting to see how this big move play by the Saints shapes the QB market for the teams, as Carr will now settle down and get on pace with his new team for the 2023 season.
Watch this story: NFL GOAT Tom Brady retirement rumors swirl as Dolphins reportedly show interest
Edited By: Gideon Mathson