'An Empire Off the Field' – Patrick Mahomes Looking to Flex His Muscle in the World of Business
Published 04/04/2021, 12:16 PM EDT ---
---
Winning is second nature to Kansas City Chiefs quarterback Patrick Mahomes. The QB won his first-ever Super Bowl in only his second season as a starter and came close to making it back-to-back Lombardi's in Super Bowl LV.
ADVERTISEMENT
Article continues below this ad
While the Tom Brady-led Tampa Bay Buccaneers ran away with the Super Bowl title, there's little doubt over whether or not Mahomes will get another shot at the Super Bowl soon.
A huge success on the field, Patrick Mahomes though, has been dabbling around in certain interests away from football. The quarterback who recently made a fortune by selling NFT artwork sat down to talk about his business ventures.
ADVERTISEMENT
Article continues below this ad
Patrick Mahomes looking to replicate other greats
While Patrick Mahomes obviously is looking to replicate the feats of footballing greats, he's also keen on replicating their financial success of it.
Talking to Yahoo Finance, Mahomes said that athletes of the past inspire him to establish a business empire of his own. 
"I am trying to build an empire off the field in every way… I watch a lot of the great athletes that came before me and they found ways to build their empire and to build themselves up off the field, so I am trying to do that as much as possible," said Mahomes.
Mahomes said that he dabbles around in the stock market occasionally, but he usually has financial advisors take most of the calls.  
"I'm pretty conservative I would say so myself, but as I have learned more and more I try to do a little bit more," he added.
But just like anything, Patrick Mahomes said that one has to have a passion for the work to make it big.
ADVERTISEMENT
Article continues below this ad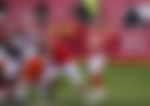 "The biggest thing is to do the stuff you love and you have a passion for because if you do that, you usually figure out a way to make it work. That has been big to me, not to just invest in everything but to invest in stuff that you truly believe in." 
Given the half-a-billion dollar 10-year contract Patrick Mahomes signed, it's no wonder he has some spare change to invest and build a business empire. But undoubtedly his main goal, for now, will be to establish a winning dynasty with the Kansas City Chiefs in the NFL.
ADVERTISEMENT
Article continues below this ad