An Overconfident Tom Brady Ahead of Patriots' Disappointing 2002 Season: 'Guys, I Mean, We're Going to Go Undefeated This Year'
Published 11/24/2021, 11:20 AM EST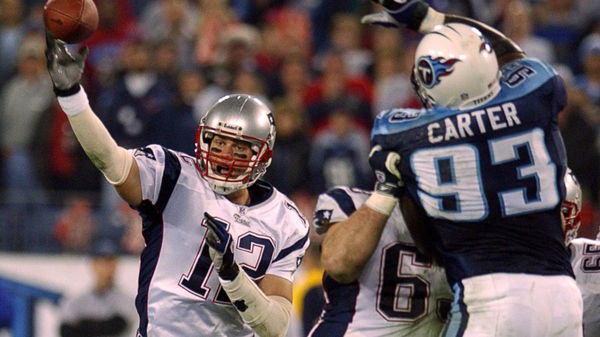 ---
---
New England Patriots represent a dynasty in the NFL, similar to Chicago Bulls in the NBA. Starring in Michael Jordan's role was Tom Brady, the NFL's newest sensation. Fresh off a Super Bowl win in his debut season, Brady thought the following season would be even more fruitful. Unfortunately, that wasn't the case.
ADVERTISEMENT
Article continues below this ad
Tom Brady on being overconfident during 2002 season
ADVERTISEMENT
Article continues below this ad
The second episode of Man in the Arena talks about the shocking 2002 season, where the Patriots did not make the playoffs. Finishing the season with a shocking 9-7 record, Bill Belichick's side lay second in the AFC East. They lay behind New York Jets, their most fearsome rivals.
After winning the Super Bowl, Brady felt too overconfident and trusted his side's abilities a little too much. He clearly forgot that while he celebrated in the offseason, other teams sharpened their knives. The Patriots kicked off the season, winning three games in a row. After that, Brady first showed off his overconfidence. "I was telling [them]. 'Guys, I mean, we're going to go undefeated this year. That's just the way it's going to be."
But an unlikely opponent ended up sending them home in tears. Led by Rodney Harrison, San Diego Chargers dealt the Patriots their first loss of the season. That kicked off a four-game skid for the previous year's champions. Brady put it better than anybody else, "they ended up kicking our [expletive]."
The 2002 season remains a stain in the perfect image of Tom Brady's New England Patriots. He concluded, saying, "It ended up being a bad year. That was tough." Fortunately, the following year actually brought along with it a ton of success, and one player who Brady believes carried the team's defense.
Rodney Harrison's role in New England Patriots' 2003 season
ADVERTISEMENT
Article continues below this ad
After he choked the Patriots' rampant offense during his stint with San Diego Chargers, Rodney Harrison made the move to Foxborough. He is a monumental figure behind New England Patriots' success during the 2000s and remains one of the best defensive minds to play the sport.
Lawyer Milloy, the Patriots' defensive captain, left the team ahead of the 2003 season. This allowed Harrison to fill up the vacancy, and he absolutely over delivered. He entered Associated Press' All-Pro Team, leading the league with 140 tackles and three sacks.
ADVERTISEMENT
Article continues below this ad
Harrison's heroics wouldn't stop in 2003. He would repeat the feat in 2004, leading the Patriots to another Super Bowl, his second in two years of joining the franchise. Joining the Patriots remains one of the best decisions Harrison could've taken, and it has paid dividends for his legacy.