NFL Analyst Believes Aaron Rodgers Will Not Be a Part of GOAT Discussions
Published 04/20/2021, 10:38 AM EDT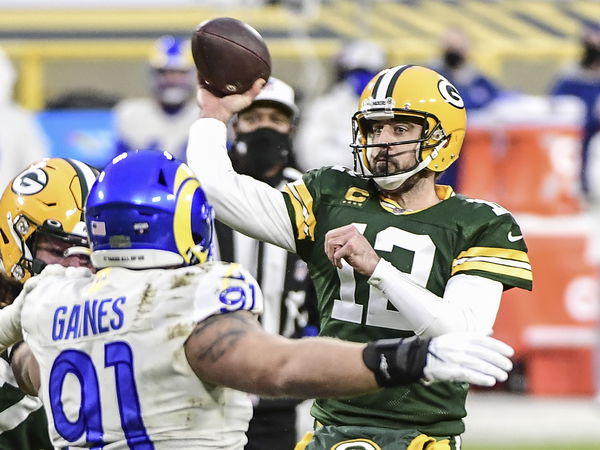 ---
---
Aaron Rodgers and the Green Bay Packers suffered a disappointing end to their NFL campaign in 2020. Yet again, the Packers stumbled in the NFC Championship Game. They lost out to Kyle Shanahan and the San Francisco 49ers last year.
ADVERTISEMENT
Article continues below this ad
This time it was against the eventual Super Bowl LV winners, Tampa Bay Buccaneers. Tom Brady put in a strong offensive display as the Bucs ran out narrow 26-31 winners at Lambeau Field.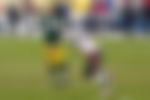 Aaron Rodgers and HC Matt LaFleur made headlines for a controversial play call just before the 4th quarter which all but sealed the loss for the Packers.
ADVERTISEMENT
Article continues below this ad
Despite this setback, Rodgers was adjudged as the 2020 NFL MVP after throwing for 4,299 yards with 48 passing TDs in 16 regular-season games for the Packers.
This was his 3rd MVP title, equalling the tally of Tom Brady and Brett Favre. But with just 1 Super Bowl ring to his name, is A-Rod really a 'GOAT' contender as compared to Brady, Joe Montana, and even Patrick Mahomes? Will Aaron Rodgers be compared to Tom Brady in the 'GOAT' conversation?
Speaking on a recent installment of ESPN's First Take, popular American analyst Max Kellerman offered his two cents on Aaron Rodgers and his potential of sliding into the 'GOAT' debate alongside Tom Brady.
"It's very, very unlikely that Rodgers will be in the GOAT discussion…if he winds up with one or even two Super Bowl championships, given the number that Brady has, given the number that Montana has, right, given the fact that there are other players even if Aaron Rodgers was the first one now we have Mahomes there'll be another guy where you're like, 'Oh, my God, look at that physical package' like the fact they can run and throw and do off-platform and all that stuff.
"The idea that he (Aaron Rodgers) is ever going to be called the greatest of all time is far-fetched, especially since he just competed against Brady in the conference.
ADVERTISEMENT
Article continues below this ad
"And when it came time for the championship game, some bad decision making on his and his coaches' part, you know, ended any chance they had to beat Tom Brady and his team," Kellerman said on the show.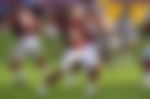 Rodgers and the Packers are embroiled in a lengthy contract stand-off in the build-up to the 2021 NFL season. As per reports, they are ready to offer the veteran a short-term extension on his current deal.
ADVERTISEMENT
Article continues below this ad
However, the player is holding out for a long-term contract that will guarantee his position as a Packers starter till he is well into his 40s.