Analyst Explains Why Pittsburgh Steelers are Far From 'Perfect' in 2020
Published 12/06/2020, 10:30 AM EST
---
---
The Pittsburgh Steelers have been near perfect this season. They have an 11-0 record this year and first in the AFC North. They are a lock to make the Playoffs and are major Super Bowl contenders.
ADVERTISEMENT
Article continues below this ad
However, not everything has been copacetic in Pittsburgh. Head Coach Mike Tomlin has told his team to improve their play despite their unblemished record. Tomlin wants his team to improve so they have the best chance of reaching the Super Bowl.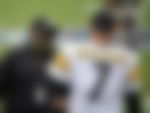 Former NFL player DeAngelo Hall spoke about the Pittsburgh Steelers, and their form this season. He suggested that Mike Tomlin is right in trying to get them to play better.
ADVERTISEMENT
Article continues below this ad
He said, "This Pittsburgh Steelers team is a team that can win a Super Bowl. And so I think you hear Mike Tomlin say after the game, he was very disappointed because he understands it's getting to that point into the season where it's a one-game elimination." 
Hall Talks Pittsburgh Steelers Form
He suggested that star quarterback Ben Roethlisberger is motivated to win another Super Bowl in his career. "We're not there yet, but Mike Tomlin understands what he has the opportunity to do.
"I think Big Ben is starting to understand the opportunity he has right in front of himself to get that third Super Bowl trophy." 
Hall doubled down on the importance of staying focused for the Steelers. "And this is a roster that can do it. So I think this team has to continue to be honest with itself.
"He (Tomlin) was brutally honest. 'Man, we look like a JV team.' You can't hold punches if you want to win Super Bowls. You can't go in there, even though you know it was a win, and think everything is hunky-dory."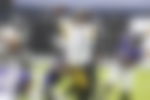 Hall spoke about the fact that the veterans on the Steelers' roster are motivating them to improve their team in the final stretch of the season.
ADVERTISEMENT
Article continues below this ad
He said, "You heard Joe Haden after the game, 'We have to get a lot better'. So I think the veterans in this locker room understand.
"And they're led by one of the best in Mike Tomlin, and he is definitely relaying that message that, 'It's about to get to that point where it doesn't matter who the opponent is. You've got to go out and play our style of football'."
ADVERTISEMENT
Article continues below this ad
The Steelers play an in-form Washington Football Team on Monday night. It has the potential of being a season-defining game for the Steelers.