NFL Analyst Shares Excitement over George Kittle Returning from Injury
Published 12/26/2020, 5:56 AM EST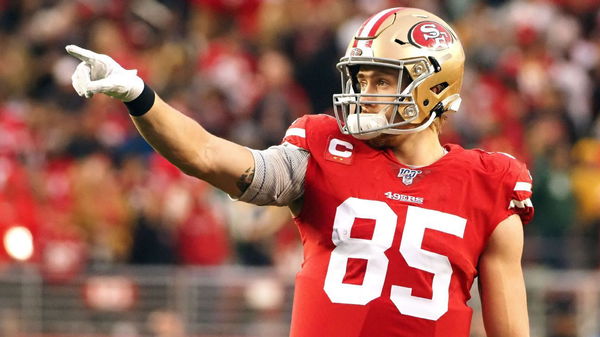 ---
---
George Kittle will make his long-awaited return for the San Francisco 49ers. Kittle was placed on the injury reserve nearly two months ago when he suffered a broken bone in his foot.
ADVERTISEMENT
Article continues below this ad
But now, he is slowly looking to make his way back to the field. Since Kittle suffered his injury, the 49ers only won 1 game out of the 6 that they played.
NFL analyst Ian Rappaport took to Twitter earlier today to share his excitement about the Kittle's return. After nearly 2 months off the field, 49ers fans and general fans of the NFL have missed seeing him.
ADVERTISEMENT
Article continues below this ad
49ers coach Kyle Shanahan revealed that Kittle will be playing in the game against the Arizona Cardinals.
George Kittle was a surprise superstar for the San Francisco 49ers. He went to the 49ers in 2017 as the 146th draft pick in the draft. Kittle was never expected to be the superstar that he ended up becoming.
By 2018, Kittle was named to the Pro-Bowl team for the first time and made the All-Pro second team.
George Kittle- Instrumental for 49ers
In his next season, Kittle took a gigantic leap in playing quality. He made his second Pro-Bowl team in the season and pushed the San Francisco 49ers to the NFL Playoffs that season. What's more, he also made his first All-Pro first team in 2019.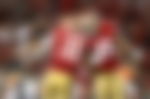 In the Playoffs, Kittle was a massive driving force for the San Francisco 49ers as they made their run to the 2020 Super Bowl. Kittle was one of the MVPs for the 49ers, as he was an offensive juggernaut during their playoff run. However, the 49ers could not defeat Patrick Mahomes and the Kansas City Chiefs.
ADVERTISEMENT
Article continues below this ad
Despite this, analysts were excited about the potential that George Kittle promised. At the start of the season, the 49ers were wildly inconsistent, having won only 4 of their first 8 games.
However, the injury to Kittle seemed like the domino piece that led to their poor run of form. With Kittle in the team, the 49ers secured 4 out of their 5 wins. But won only 1 game without Kittle in the team.
ADVERTISEMENT
Article continues below this ad
It remains to be seen how the 49ers will perform with a returning Kittle. Given that it is his first game back from injury, no one expects him to start back up with a bang.