Analyst Slams Critics of Lamar Jackson for Thinking "It's Still a Gimmick"
Published 06/12/2020, 12:13 PM EDT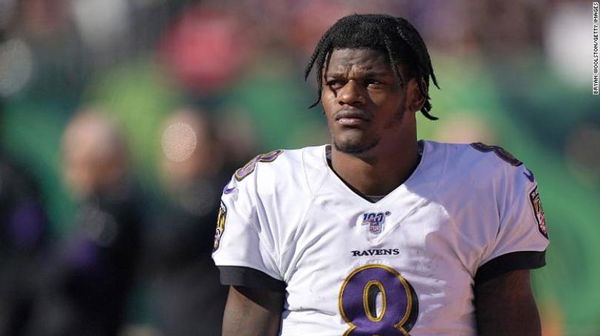 ---
---
Baltimore Ravens' quarterback, Lamar Jackson, began playing in the League in 2018. But the MVP is still criticized for and doubted over his performance, especially in post-season playoffs.
ADVERTISEMENT
Article continues below this ad
Will Lamar Jackson be judged only on his postseason performance?
ADVERTISEMENT
Article continues below this ad
Jackson has only played in two playoff games in his career and has lost both. Many believe these were his worst games so far. So, the prominent question now is- till when will these losses haunt Lamar? "I don't know. I hate losing", Jackson said in a press conference after losing to the Tennessee Titans in the playoffs in January.
Kyle Brandt, a co-host on Good Morning Football, said if Jackson doesn't win a playoff this year, he will give way to a narrative where his capabilities are questioned and perceived based on his post-season performance. "Look at his peers. Deshaun Watson's won in the playoffs, Dak's won in the playoffs, Goff's won in the playoffs. It's go time!"
Brandt, however, also said that people are much less patient today than they were earlier. Even a legend like Peyton Manning "didn't win a playoff till his sixth season". But this doesn't necessarily excuse Lamar not winning a playoffs game yet.
Nate Burleson added that Jackson deserves a fair pass because the Ravens' starting running back, Mark Ingram, and tight end, Mark Andrews, both sustained injuries. But with his early success, everyone wants to see Lamar Jackson get in the playoffs and win.
Jackson said that he doesn't care about what anyone says about his post-season performance. "This is my second year in the league. Many people aren't able to bring it to the playoffs", he added.
Mike Garafolo said that he still can't believe that "there are doubters out there that think he can't even do it in the regular season. These critics think that "it's still a gimmick and at some point, somebody's gonna figure it out."
What the Ravens' head coach had to say about Lamar
Ravens' head coach, John Harbaugh, recently said that Lamar needs to and will use the oppositions' defense coming one-on-one with the receivers to his advantage, especially on deeper throws. "The ability to make them pay for tilting their defense toward stopping our run game with a really, really efficient passing game. I do believe that's the next step of this offense. I really do believe Lamar is going to take the next step."
Jackson's ability to run like a beast is what makes him a threat to the defense. While he said that he doesn't think he'd run a lot this season, Harbaugh hinted otherwise.
ADVERTISEMENT
Article continues below this ad
Lamar's teammates come to the rescue
Jackson's postseason performance has been heavily debated and discussed since the 12-28 loss to the Titans. Many critics may gauge him on these couple performances, but his team certainly doesn't.
"It's a team game. It's not on him," running back Mark Ingram told reporters in January. "We had guys out there who didn't make plays."
ADVERTISEMENT
Article continues below this ad
"It's one game. You're not going to depict a guy from one game," added guard Marshal Yanda. "You take his entire body of work for his 2019 season and the kid played his ass off. That's where I stand on that."
With Lamar Jackson's 42 passing touchdowns, 4,328 yards, and many brilliant performances to back these numbers, do you think it's fair to assess his skills as a quarterback just by his post-season games?