Andy Reid Reacts to Matt Nagy Helping Patrick Mahomes Cheat His Way Into Kansas City Chiefs During 2017 NFL Draft
Published 12/04/2022, 3:56 PM EST Patrick Mahomes recently revealed some very interesting information on the New Heights Podcast with Travis and Jason Kelce. The Chiefs quarterback is leading his team to a potential third franchise Super Bowl this season. However, this fairy-tale Kansas offense could have just been a dream if Patrick Mahomes didn't do what he did. And HC Andy Reid recently got the smell of it.
Patrick Mahomes recounted how Chiefs offensive coordinator Matt Nagy lent a helping hand to the young Texas Tech quarterback. Nagy saw the fire in Mahomes and gave him a heads-up about the possible plays to go over for the Top 30 visit. With the added guidance and the entire night to study the given plays, Patrick impressed a lot of people the next day.
ADVERTISEMENT
Article continues below this ad
In a recent press conference, Kansas City Chiefs head coach Andy Reid got to know about Mahomes' ingenious back door strategy. "Geez, I didn't know that," the Kansas offensive play caller said.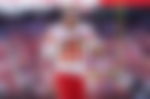 On being asked if he wanted to redo the draft, Reid replied in his usual jovial style, "man, would have never taken him." Despite the unfair head-start, Patrick Mahomes did quite well for himself and Andy is probably letting it go this time.
Patrick Mahomes also had a hand in his draft pick
Getting his question sheet a night before the examination wasn't the only thing Patrick Mahomes revealed on the podcast. Travis Kelce described it best when he said that Mahomes "drafted himself."
ADVERTISEMENT
Article continues below this ad
Patrick Mahomes impressed a lot of teams at the workouts and visits. And everybody wanted those cannon arms leading their offense. However, the youngest NFL MVP always had his mind set on Kansas City.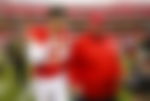 Pat Mahomes did what he had to. He took steps toward ensuring his spot on the roster. After getting to know that other franchises like the New Orleans Saints were interested to pick him, Mahomes decided to give a heads-up to the Chiefs. He asked them to trade up if they wanted him. Mahomes feared that if Kansas doesn't come up to at least the 12th pick, he might have to go somewhere else. And this finally made Kansas move up to the 10th spot and land the future Super Bowl MVP.
ADVERTISEMENT
Article continues below this ad
Everything turned out quite perfectly for the Chiefs and Patrick Mahomes. This season has also been equally rewarding for the pair. Mahomes leads the league in touchdowns thrown (29) and has passed for over 3585 yards. That is also the highest amongst the quarterbacks in the NFL right now. The Chiefs look to extend their 5-game winning streak against the 7-4 Cincinnati Bengals on Sunday.
WATCH THIS STORY: Patrick Mahomes' 1-yo daughter wins internet by snuggling with her newborn baby brother in the cutest snap you would ever see
Edited By: Deepika Bhaduri