Antonio Brown Has a Lot to Say to Tom Brady in His Recent Social Media Post
Published 07/24/2021, 12:20 PM EDT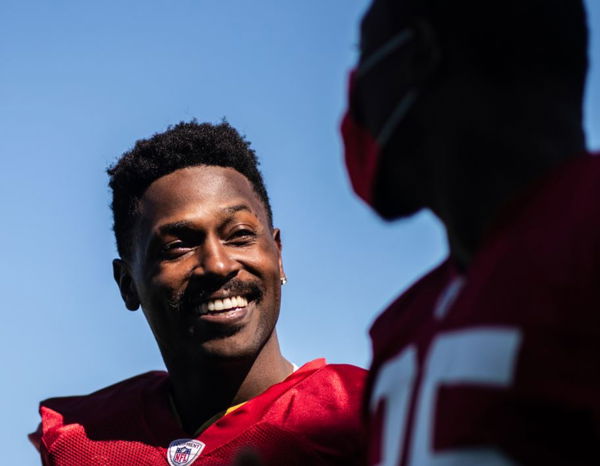 ---
---
For Antonio Brown, the last few seasons have been nothing short of a rollercoaster. From being an All-Pro wide receiver with the Pittsburgh Steelers to finding himself without a team at the start of the 2020 NFL season, life came at Brown thick and fast. 
ADVERTISEMENT
Article continues below this ad
After being traded by the Steelers following a bust-up with QB Ben Roethlisberger, Brown found himself in Oakland with the Raiders ahead of the 2019 NFL season. But before the season could even begin, Antonio Brown was released. This time, thanks to differences with the franchise's front office.
Snapped up by the New England Patriots midway through the season, there seemed to be light at the end of the tunnel for Brown. Combining for a touchdown with Tom Brady in his first game, the future looked bright for Brown at New England. 
ADVERTISEMENT
Article continues below this ad
But then again, Brown's time with the team was cut short. This time due to off-field controversies. And after being released by the Patriots, it really seemed like the wide receiver's career in the NFL was over.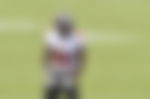 Off the field for almost a year, Brown was given another chance in 2020. This time by the Tampa Bay Buccaneers. And the quarterback who reportedly pushed to make the move happen? Tom Brady. 
With the Bucs, Brown won his first-ever Super Bowl. While his influence was limited in the earlier half of the season, he really picked up his game in the closing stages, even scoring a touchdown at Super Bowl LV against the Kansas City Chiefs. 
And now, the wide receiver had a little something to say to his quarterback. 
Antonio Brown grateful for 'big brother' Tom Brady 
The Tampa Bay Buccaneers squad recently got their hands on their Super Bowl rings at a private ceremony held on Thursday. While Tom Brady claimed his seventh ring, it was a first for Antonio Brown. And the wide receiver couldn't be any more grateful to the QB.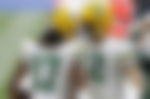 "Love you, big brother! Thank you for always shooting me straight and giving me the best possible advice. Thank you for giving me an opportunity and helping me take advantage of it! Thanks for your great humility and self-awareness helping me grow physically, mentally and emotionally," said Brown in his Instagram post.
ADVERTISEMENT
Article continues below this ad
"Teaching me APG is a continuous daily habit of reflection and the more successful we become, the more humble We need to become, because that's what will endear us to people. You're a legend in so many ways, I am beyond grateful to be your friend; teammate; Champions for life @tombrady 🐐#LFG #TB+AB=SB," he added.
ADVERTISEMENT
Article continues below this ad
Brady gave a rousing speech at the ceremony where he thanked each and every one of the Bucs organization for the success they'd achieved last season. But perhaps the man most thankful to Brady for his recent successes is Antonio Brown.