Antonio Brown Hilariously Tells Tampa Bay Buccaneers to Re-Sign Him on Social Media
Published 04/06/2021, 12:45 PM EDT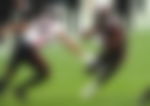 ---
---
The Tampa Bay Buccaneers have been on a mission this offseason. Ever since the Super Bowl ended, the biggest cause for concern was team building for the next season.
ADVERTISEMENT
Article continues below this ad
Many of the Buccaneers' key players were on deals that expired this year. And a Super Bowl win would increase their value. But the Buccs managed to bring everyone back. Nonetheless, there are still more to return.
Antonio Brown has one such name that he would like to see sporting the iconic colors of the Bucs. That name is Antonio Brown.
ADVERTISEMENT
Article continues below this ad
The Tampa Bay Buccaneers put up a post announcing that they were able to bring back all 22 starters from their 2021 Super Bowl team.
Antonio Brown caught wind of this post and made his intentions clear in the comments. He left a sly, yet incredibly funny comment on the post – "Sign @ab". Needless to say, it seems like Brown is keen on running it back with the Bucs next season.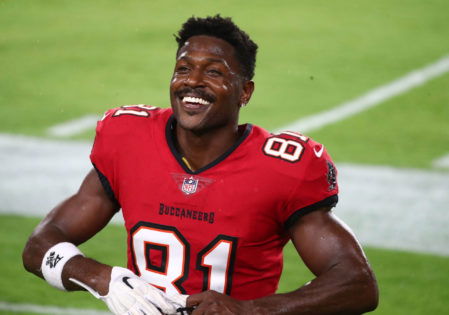 Antonio Brown had a redefining season with the Tampa Bay Bay Buccaneers last year. Brown had been one of the best players in the NFL during his prime.
He was a multiple-time Pro-Bowl and All-Pro player. Brown was even named to the NFL's All-Decade Team for the 2010s. But problems on and off the field derailed his career.
Antonio Brown turns things around
Brown had a tumultuous time after leaving the Pittsburgh Steelers. With the Steelers, he found great success but was eventually forced out.
His stints with the Oakland Raiders and New England Patriots never materialized, and he played one game across his stint with both teams.
During the 2020 off-season, Brown revealed his decision to retire, but then reneged on that decision. In October 2020, Brown signed a 1-year contract with the Tampa Bay Buccaneers.
He would get playing time across the season as he became one of the more relied upon stars for the Tampa Bay Buccaneers. He played big minutes during the post-season and came through when it counted the most. During the Super Bowl, Brown scored the third touchdown for the Buccaneers as they went on to win the Super Bowl.
ADVERTISEMENT
Article continues below this ad
Will the Tampa Bay Buccaneers re-sign Antonio Brown? If they can come to an agreement with him about his salary, then the franchise would love to bring him back.
However, Brown was one of the highest-paid players at the peak of his career. And after the Super Bowl win raised his stock, he may want to find his way back to a higher salary too.
ADVERTISEMENT
Article continues below this ad