Antonio Brown Injury Update-Buccaneers Wide Receiver Undergoes Knee Surgery
Published 05/21/2021, 5:19 AM EDT
Antonio Brown had a career resurgence last season. After bouncing around from team to team across the NFL, Brown found a home with a new team – The Tampa Bay Buccaneers.
Once the best wide receiver in the NFL, Brown was getting a chance to rebuild his reputation. And with Tom Brady supplying the ball to him, Brown was able to become a crucial part of the team that won the Super Bowl title. But Brown's second season preparations will have to wait.
Tampa Bay Buccaneers wide receiver Antonio Brown has undergone knee surgery recently. Brown had been struggling with some pain in his knee. According to reports, the surgery was a simple clean-up, and it'll just help put Brown in less pain going into the new season.
ADVERTISEMENT
Article continues below this ad
There appear to be no side effects from the injury, and it was just a routine surgery to help Brown alleviate some pain. But the surgery will not complicate his new deal.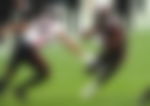 Brown agreed to a new contract with the Tampa Bay Buccaneers very recently. But after the surgery, Brown will have to pass a physical examination from the Buccaneers before he can sign his new contract with the franchise.
So expect the contract to take some time before it gets signed. Brown will have to wait before he can take the physical, and even after the contract, he will have to wait before he can return to footballing activities.
Antonio Brown returning to Tampa Bay
ADVERTISEMENT
Article continues below this ad
The Buccaneers aren't going to change their mind about Brown. Buccaneers' GM Jason Licht isn't worried about the surgery in the slightest. Furthermore, the surgery won't have any bearing on the new contract for Brown.
For the Buccaneers, bringing Brown back was part of their process to ensure that Tom Brady has the strongest team around him. Brown is one of the several players that the Buccaneers were able to retain going into the new season.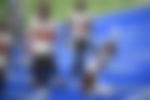 ADVERTISEMENT
Article continues below this ad
Can Antonio Brown be successful next season? While his numbers didn't come close to his prime with Pittsburgh, Brown has shown he is still a serviceable wide receiver, that can provide speed, strength, and veteran experience on this Buccaneers team going forward.