Antonio Brown Pens One-Year Deal with Tampa Bay Buccaneers? Twitteratti Reacts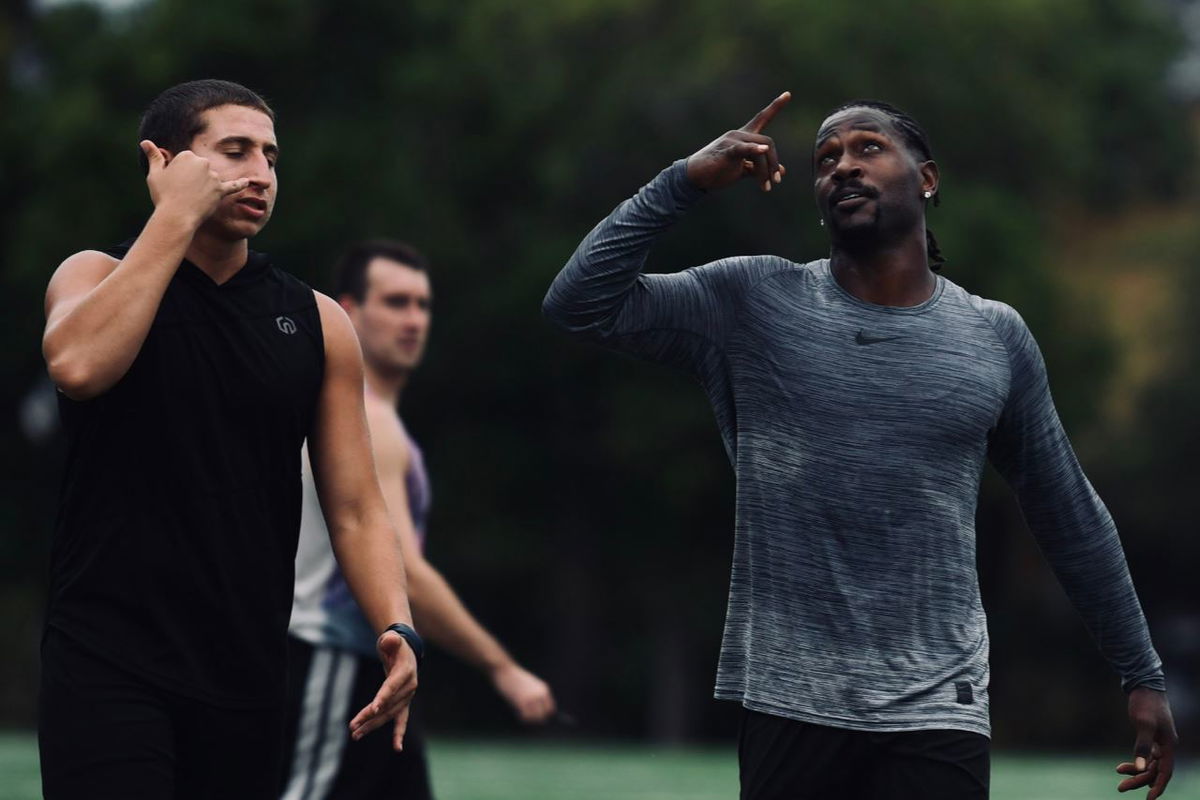 As we edge closer to deadline day in November, NFL trade rumors continue to pile up. The latest one involves in-demand free agent Antonio Brown. The veteran NFL wide receiver was handed an 8-game ban in the offseason.
Brown has faced several off-field issues in recent years. The league suspended him for multiple violations of the league's personal-conduct policy. He previously declared that he was going to retire in September, but went back on that a couple of weeks later.
Brown is free to play after the conclusion of Week 8, and several teams are interested in picking him up. Pete Carroll's Seattle Seahawks were reportedly leading the race for Brown.
However, it appears Tom Brady and the Tampa Bay Buccaneers have won the race already.
ALSO READ- Tom Brady Reveals the Truth Behind Nick Foles Snub in Week Five
Could former Pittsburgh Steelers man be heading to Tampa Bay Buccaneers?
Update: Antonio Brown and the Buccaneers have reached agreement on a one-year deal, per sources.

Language still has to be finalized, COVID protocols passed, but Brown is likely to make his Bucs' debut in Week 9 against the Saints.

— Adam Schefter (@AdamSchefter) October 23, 2020
After all the rumors linking Antonio Brown to the Seattle Seahawks, it appears the NFC South leaders, Tampa Bay Buccaneers, have won the marathon for the in-demand free agent's services.
NFL insider Adam Schefter is the first to report that AB will be signing a 1-year deal with Bruce Arians' side in the coming days. But the exact figure of his deal remains a mystery.
Brown is regarded as one of the best wide receivers in the last decade. Since making his debut in 2010 for the Pittsburgh Steelers, he has registered over 11,000+ receiving yards from 103 career starts.
In fact, Schefter further claimed that former New England Patriots' teammate Tom Brady was the one who pushed for Brown's signature.
Tom Brady has helped push to bring Antonio Brown to Tampa, and the free-agent WR now arrives there tonight. pic.twitter.com/QRpu4IC6sg

— Adam Schefter (@AdamSchefter) October 23, 2020
Twitter reacts to potential Antonio Brown – Tom Brady reunion
"Tom Brady should be able to keep Antonio Brown in line this time and avoid the locker room issues."

The Bucs locker room a month from now:
pic.twitter.com/aNGtX5brLH

— NOTSportsCenter (@NOTSportsCenter) October 23, 2020
. @TomBrady & @AB84 reunited for a second chance at life: pic.twitter.com/8e44hL1yPJ

— Jay Williams (@RealJayWilliams) October 23, 2020
Here's a cheeky little dig by an NFL fan on Seattle Seahawks quarterback Russell Wilson
Poor Russ. You almost had him 😭 #AntonioBrown #TomBrady #RussellWilson #TampaBay pic.twitter.com/in9Gf66AOo

— Andy Kiryazov (@Andy_Kiryazov) October 23, 2020
The Buccaneers already signed Rob Gronkowski, Leonard Fournette, and LeSean McCoy on respective 1-year deals in the offseason. Antonio Brown will be the fourth addition to that list if the deal does go through.
With wide receivers, Mike Evans and Chris Godwin, both dealing with injury niggles this season, Brown could be the perfect addition to the Florida-based outfit.
It does appear that 'Tampa Brady' is going all out to make it to the Super Bowl this season. Is Brown the missing piece of the Tampa Bay Buccaneers puzzle? Watch this space for more.
ALSO READ- Russell Wilson Sparks Antonio Brown to Seattle Seahawks Rumors Again