Antonio Brown Reveals Shocking Details in Recent Statement: 'He Shouted At Me YOU'RE DONE While He Ran His Finger Across His Throat'
Published 01/06/2022, 6:27 AM EST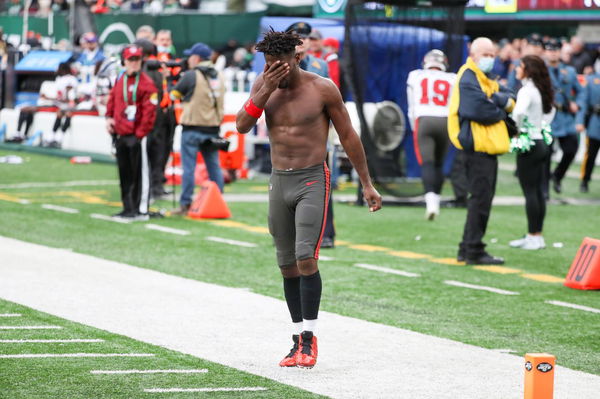 The lengthy statement that Antonio Brown gave about the incident revealed a lot. He shed light on things that most people did not know about. Many jumped straight to conclusions about Brown's behavior. But after the statement, everybody is having second thoughts about judging him. 
Towards the end of the relationship between Antonio Brown and the Tampa Bay Buccaneers, things become rocky. Both sides were not on good terms. Antonio gives most of the blame to the head coach, Bruce Arians. Brown says that he was fired on the bench before he walked off the field. 
Bruce Arians fired Antonio Brown on the bench
ADVERTISEMENT
Article continues below this ad
Antonio Brown has been dealing with an ankle injury for a very long time. Despite being in a lot of pain, he gives his heart and soul in every play. Brown claims that no one can blame him for not trying his best on the field. Antonio gives it his all. 
The commitment of the wide receiver to his game has got him a lot of pressure from above. Brown claims that Arians forced him to suit up despite the injury. The former Bucs' player still tried to play without any complaints. The staff gave him some unsafe painkillers. At the time, Antonio did not know that these were ruled harmful by the NFLPA. He gave his all to the team until he could not anymore. 
ADVERTISEMENT
Article continues below this ad
With all the responsibilities, Brown couldn't perform safely. The pain was very extreme for him. During the New York Jets game, the wide receiver took a seat on the sidelines. The HC walked towards him and started shouting. He yelled, "What is wrong with you!?" Antonio replied, "It's my ankle." Brown claims that Bruce Arians did not get him any medical assistance. He instead shouted, "YOU'RE DONE!" and ran his finger across his throat. 
Bruce Arians after the game
ADVERTISEMENT
Article continues below this ad
After the Jets game, when the head coach was asked about Antonio Brown walking off, he said, "He's no longer a Buc." The HC has not revealed that he fired Brown before he walked off. Other than Antonio's statement, we do not have any other word about the incident. Brown claims that despite being in a lot of pain, he tried to fulfill his duty as a Buccaneer. 
Watch Stories: Justin Herbert, Dak Prescott and More; The Best Rookie QB Seasons in NFL History