'Miscommunication': Kyler Murray Addresses Decisive Mistake That Cost Them Win Against Green Bay Packers
Published 10/29/2021, 6:47 AM EDT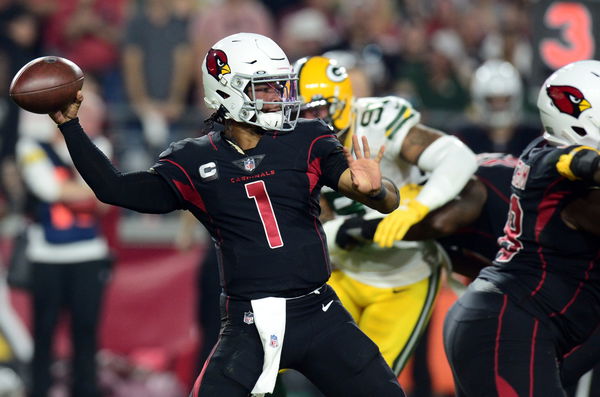 ---
---
Arizona Cardinals suffered their first loss of the season on Thursday Night Football to Green Bay Packers. If there was any team in the NFL who could've stopped the Cardinals, it was Aaron Rodgers' side. However, Arizona came incredibly close to pulling off the most incredible comeback, but Kyler Murray saw his pass intercepted, thanks to AJ Green's unawareness.
ADVERTISEMENT
Article continues below this ad
Kyler Murray opens up on AJ Green mistake
ADVERTISEMENT
Article continues below this ad
With seconds counting down on the clock, Kyler Murray lofted a great pass in AJ Green's direction. Instead of throwing his hands in the air, the wide receiver had no clue the ball headed in his direction. This allowed Packers cornerback Rasul Douglas to pick the ball and cement the Packers' win.
ADVERTISEMENT
Article continues below this ad
Tensions would've been high post-game; the blame game must've been played in the locker room as well. But in front of the cameras, Kyler Murray admitted the mistake wasn't just Green's but also his. He explained, "I honestly don't know. Miscommunication… um, I couldn't tell you. But, we just have got to be better."
"I know he's hot — emotions running high. Obviously, after the fact it's… you know, we both know, we weren't on the same page and it cost us. We will be better because of it. Yeah, I think with this group of guys, for sure. It's a very mature group. We got a lot of old veterans, a lot of leaders on this team that I don't think will let that happen. I'm confident in us bouncing back and forgetting about this one."
ADVERTISEMENT
Article continues below this ad
The Cardinals cannot let this performance derail them from what's been a sensational season. Going 7-0 is no joke, and Arizona has one of the best offensive lines in the league right now. Standing at 7-1 with them are Green Bay Packers, and Aaron Rodgers claimed he is going to see Kyler Murray in the playoffs. On that note, is a sequel written in the stars, or a Super Bowl meeting?