Arizona Cardinals Spends $40K of his Own Money to Host Training Session for 20 Teammates
Published 07/06/2020, 6:30 PM EDT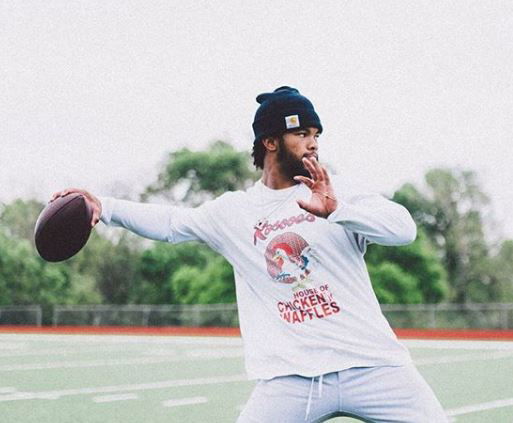 Kyler Murray is eager to prove a point with the Arizona Cardinals in the NFC West Division this year. After a decent rookie season, Murray will lead the Cardinals in a tough division this year. The youngster is leaving no stone turned ahead of the 2020 season. As per, Mike Florio of Profootball.com, he will spend a mammoth $40K on expenses to organize a workout session with his teammates.
Kyler Murray reportedly spends $40K on Arizona Cardinals workout session
ADVERTISEMENT
Article continues below this ad
As per the reports, Murray invited four QBs (including himself), running backs (four), receivers (nine), and tight ends (four) for a training session that will run from Wednesday to Sunday. The workout camp will include on-field and off-field practice drills along with team-building exercises.
The 2019 Offensive Rookie of The Year will be spending north of $40K from his own pocket to facilitate all the expenses. He will pay for food, lodging and travel expenses for all 20 teammates that will arrive at the camp.
I'm all about that quarantine life reveals Arizona's star quarterback
ADVERTISEMENT
Article continues below this ad
On a recent zoom call with a reporter from the Cardinals' official website, Kyler Murray spoke about dealing with COVID-19 and practice restrictions before the 2020 season. "I'm built for the quarantine life. I don't really go outside anyway, other than working out and throwing the football."
"We would have all loved to have been on the grass, getting the hundreds of reps he would've gotten, but just talking through film with him, listening to how he is seeing the game now, his understanding of concepts, he has definitely taken a step (forward) in that area. That's all we can hope for right now," Murray said.
ADVERTISEMENT
Article continues below this ad
Murray further added "The physical stuff is going to be there. He has worked really hard, throwing and doing all those things, but the way he's seeing the game, the way we are getting on the same page, I know that will continue." The 22-year old was a first-round NFL draft pick by the Cardinals last year. He was also picked in the first round of the MLB draft. However, he opted to play in the NFL. The former Oklahoma Sooners player became the shortest quarterback (5 ft 10 1⁄8) in NFL history. He upstaged former QB Johnny Manziel who was 5'11".