As Jets-Packers Trade Deal Gets Finalized, Aaron Rodgers Lands an Offer He Couldn't Refuse
Published 03/18/2023, 2:17 PM EDT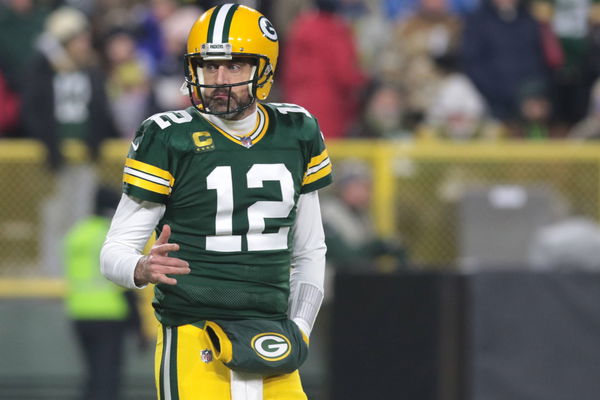 Green Bay Packers are en route to losing one of their most lethal weapons, and while many consider it good riddance, the fans are definitely hurting. On the other hand, ever since Aaron Rodgers' appearance on 'The Pat McAfee show,' New York folks seem to be in a celebratory mood. However, there has been some tussle between both teams regarding the trade. And it seems the former NFL MVP has stepped on something great.
Aaron Rodgers seems to be well-paced for a move to New York Jets. And while the Jets haven't revealed the details of the signing, another enjoyable New York exclusive offer has presented itself in front of Rodgers.
Aaron Rodgers offered an experience
ADVERTISEMENT
Article continues below this ad
Although Aaron Rodgers and Green Bay Packers have decided to go separate ways, a deal hasn't gone through yet. The Packers are willing to let go of Rodgers, but compensation seems to be one of the biggest concerns.
According to NFL Insider, Tom Pelissero, Green Bay isn't looking for multiple first-round picks like other QBs have commanded in recent years. They include Russell Wilson and Matthew Stafford.
The #Packers and #Jets continue to negotiate on an Aaron Rodgers trade but have not yet agreed to trade terms, per sources.

Green Bay isn't looking for multiple first-round picks like other QBs (Russell Wilson, Matthew Stafford) have commanded in recent years. Talks ongoing. pic.twitter.com/W1SZlx0UZA

— Tom Pelissero (@TomPelissero) March 15, 2023
As Rodgers himself said, "I haven't been holding anything up at this point, It's been the compensation that the Packers are trying to get for me."
Amidst all of the back-and-forth demands, Aaron Rodgers received a rather amusing offer. An offer that would be hard to turn down for any New Yorker. Celebrity Private Investigator, Bo Dietl, told the New York Post, "As long as you ain't a vegetarian, you come to New York and we are going to break your cherry."
He even confirmed Rodgers a table at the legendary New York eatery, Rao's. As many would confirm, it is almost impossible to get a reservation at the exclusive East Harlem restaurant. However, being a native, Dietl, has been enjoying himself on Thursday nights since 1977. And he has promised to open those doors for Rodgers as well.
ADVERTISEMENT
Article continues below this ad
Following in the footsteps of NFL royalties
Rodgers accepting Dietl's offer would see him follow in the footsteps of NFL royalties, such as Phil Simms, Joe Montana, Boomer Esiason, and Peyton Manning. While his resume is already stacked up in comparison to most of these legends, Rodgers is missing out on the New York experience.
In addition, Rodgers has also been a regular at Benjamin Steakhouse on East 41st Street and enjoys his occasional steak.
ADVERTISEMENT
Article continues below this ad
Watch This Story: "And I'd say, he's a fu*king": Aaron Rodgers puts wishlist rumors to bed once and for all
The New York fanbase is certainly hoping for Rodgers to celebrate his future victories in one of their refined establishments. Much like Manning celebrated his second Super Bowl title at Rao's.