"Assuming That He Doesn't Roast Me" – Bill Belichick Excited for Julian Edelman's Special Halftime Ceremony
Published 09/25/2021, 7:45 AM EDT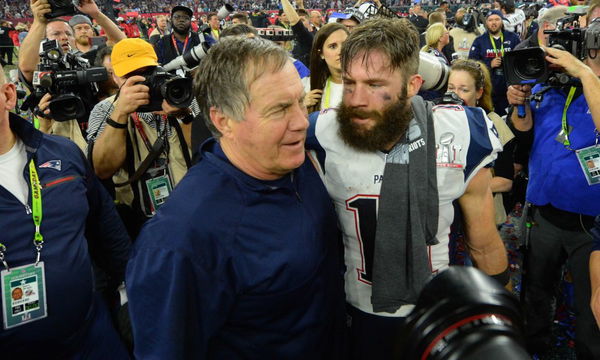 ---
---
Julian Edelman has had an illustrious career for the New England Patriots. With 620 receptions, 6,822 receiving yards, and 36 receiving touchdowns, Edelman ranks second in franchise history. He is second in NFL history with 118 postseason receptions, trailing only Jerry Rice's 151.
ADVERTISEMENT
Article continues below this ad
While he has stellar statistics to back his greatness, his performances in clutch situations is what cements his legacy. Edelman was a critical player of three Super Bowl championship teams, putting in key performances at crucial points in each of their victories. Respecting a legend of the game like him is the bare minimum a team can do, and this is what the Patriots are doing this Sunday.
ADVERTISEMENT
Article continues below this ad
Bill Belichick shares his excitement to see Julian Edelman this Sunday
At Gillette Stadium on Sunday afternoon, the Patriots will commemorate retiring receiver Julian Edelman with a halftime ceremony. It will allow supporters to give Edelman a proper send-off while also allowing Bill Belichick and many of his former colleagues to catch up with one of the franchise's all-time greats.
Sharing his excitement at meeting Edelman, Belichick spoke to the Patriots website about it. "It will be great to see him again and recognize him for the great career that he had here, and how much he meant to this team and organization, and how much he stepped up us in big games year after year and week after week."
Patriots coach jokes about Julian Edelman's sense of humor
ADVERTISEMENT
Article continues below this ad
A couple of weeks ago, Julian Edelman's impersonation of Bill Belichick went viral on social media. Bill, while speaking to the website, also shared that he hopes to not see Julian impersonating him again. "A really tough, competitive kid, right up there at the top of the guys I have coached. It will be great to see Julian, assuming that he doesn't roast me or get into a big impersonation," Belichick joked.
He then continues showering praises on the legacy of Edelman and the impact he had as a player. "It's similar to what Julian did. First of all, he was a quarterback, so is he a running back, a quarterback, a receiver? And turns out he played some defense too. He played inside and outside, did multiple things for us. It took him a while to get on the field, a little longer than Jakobi, but in the end had a tremendous career and production in every area."
ADVERTISEMENT
Article continues below this ad