Atlanta Falcons Coach Dan Quinn Outlines his Plan for Rightback Todd Gurley
Published 05/14/2020, 10:38 AM EDT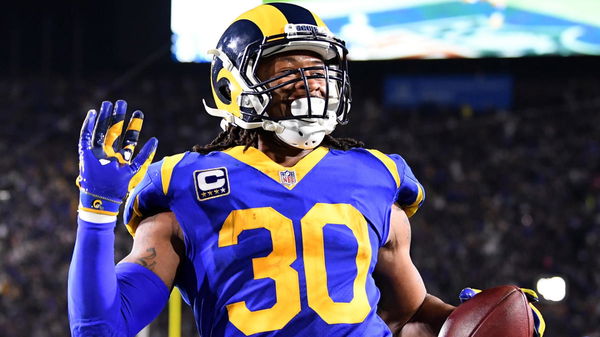 Back in March, the Los Angeles Rams let go of running back Todd Gurley. Luckily, the Atlanta Falcons were looking for someone, and happily took him off their hands.
ADVERTISEMENT
Article continues below this ad
The Falcons were looking to upgrade their offensive lineup, and Gurley was ripe for the picking. Falcons head coach Dan Quinn offered the running back a one-year, $6 million deal.
"We thought in this system, the way we want to attack, he would certainly be somebody who fit," Quinn told SiriusXM NFL Radio on Wednesday. "We felt like, man, we were fortunate that he would have a shot to get down here."
ADVERTISEMENT
Article continues below this ad
Unfortunately, a knee injury has acted as a blight for poor Todd Gurley. Fortunately, that little hiccup did little to faze Quinn, so he kept the faith in the 25-year old.
"From the evaluation side, when you're looking at a player who's in a similar offense, it's a really easy evaluation," Quinn said. "The Rams and our offense have so many concepts that are similar."
ADVERTISEMENT
Article continues below this ad
How will Todd Gurley do this NFL season?
From a fan perspective, this should make Gurley's upcoming season one of the more interesting sub-plots in the NFL. The Georgia alum was rather unceremoniously dumped by the Rams days before he would've been due a $10.5 million bonus following a year in which his usage dipped greatly.
What was then one of the main talking points about the Rams offense will now become a question of just how much they misused him. Or it could provide some vindication for McVay and Co. Assuming Gurley returns to his All-Pro form, McVay will have to answer a lot more questions than he'd like about why Gurley is able to succeed in such a similar offense. For a coach who spent his first two years in Los Angeles as the toast of the league, overcoming that scenario will prove one of his tougher challenges.
ADVERTISEMENT
Article continues below this ad
If Gurley falters, however, it'll be even easier to point to McVay and the Rams as seeing the declining value of the workhorse tailback ahead of the rest of the NFL.  The Falcons are assuming it'll be the former playing out.
"It seems like a really good fit for both sides," Quinn concluded.