Roddy White Wants Trevor Lawrence to Stay in College Rather Than Join the Jets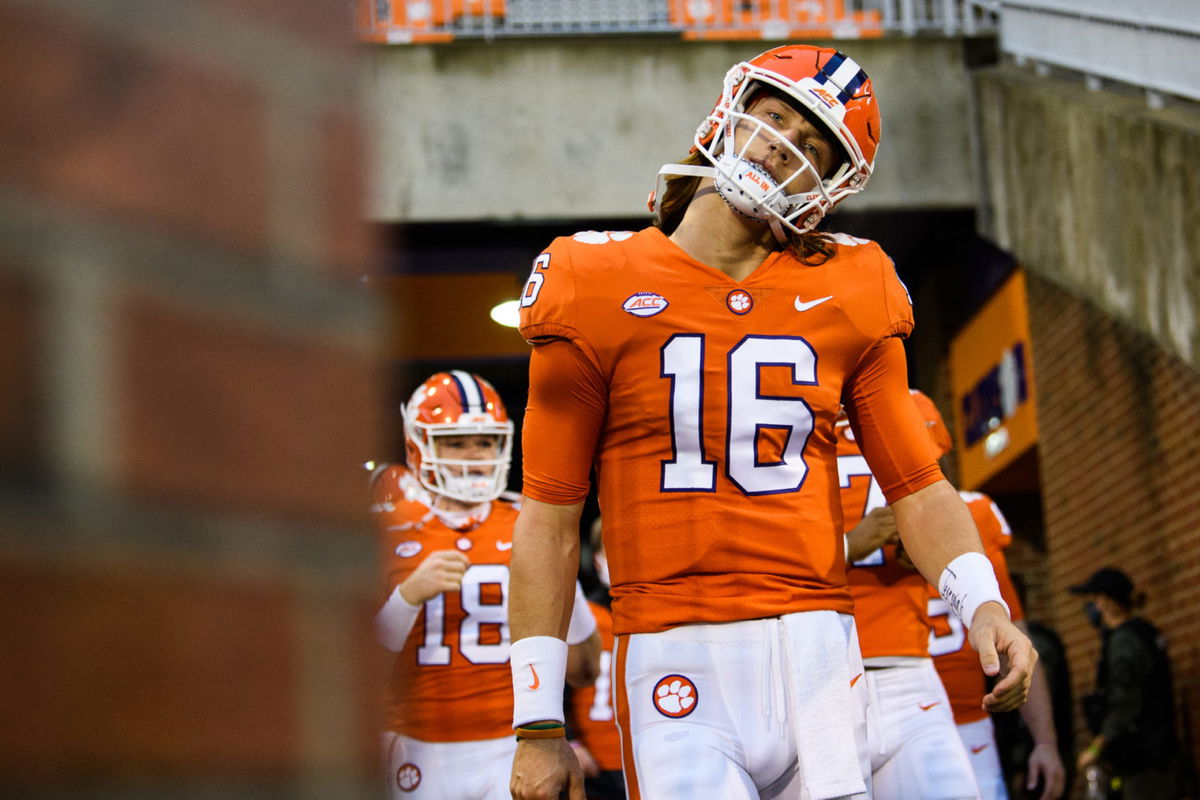 Highly-rated college quarterback Trevor Lawrence started his NCAA career on the bench behind Kelly Bryant for the Clemson Tigers. Head coach Dabo Swinney declared him the undisputed starter four games into the 2018 season. He led the Tigers to the College Playoff Football National Championship in his rookie years.
He was later named National Freshman of the Year. Lawrence had a disappointing end to his 2019 season, though. However, he is widely regarded as the top college quarterback in the buildup to the 2020 season.
With Adam Gase and the New York Jets on a 0-6 record, they seem likely to acquire the 2021 NFL first-round pick. Quarterback Sam Darnold's position is already in jeopardy due to a disastrous outing this season. Could Trevor Lawrence be heading to the Bronx next season?
ALSO READ – "Felt Like it Was My Team" – Ryan Fitzpatrick Opens Up on Tua Tagovailoa's Promotion
Former Atlanta Falcons star advises Trevor Lawrence to avoid the Jets
What should Trevor Lawrence do? 👀 pic.twitter.com/S2wOaTjCwz

— B/R Gridiron (@brgridiron) October 21, 2020
Roddy White spent the entirety of his career (15 odd years) with NFC South franchise Atlanta Falcons. After retiring in 2015, the former wide receiver often appears on NFL talk shows and podcasts. He joined Brian Giufra of  The Big Lead for an exclusive lead earlier this week.
Here's his seemingly priceless advice to Clemson Tigers quarterback and a potential first-round pick, Trevor Lawrence.
"Because it would be awful for you to get drafted by the Jets because they do not know how to put anything together over there as far as quarterbacking, as far as weapons around the quarterback, as far as anything that has to do with offensive talent," White told The Big Lead.
FIVE FIRST-HALF TOUCHDOWNS FROM TREVOR LAWRENCE 😱 pic.twitter.com/iAW4oKDc52

— SportsCenter (@SportsCenter) October 17, 2020
The Jets are the only team left to win a game in the league this season. Neighbors New York Giants beat the Washington Football Team by a 20-19 scoreline in Week Six. Coach Gase will undoubtedly be under the public eye this weekend. They are 0-6 and now will be playing Josh Allen's Buffalo Bills this Sunday.
Meanwhile, Lawrence will be gearing up for a long and packed NCAA season with the Clemson Tigers. We're sure he'll be following the ongoing season with great fervor. Can't help but wonder, but has Lawrence already started hunting for an apartment in New Jersey?
ALSO READ – "Great Teams Have Consistent Habits"- Aaron Rodgers Wants His Teammates to Step Up