Lamar Jackson Disgusted Over Sharing Name With Villainous Character From Highly Acclaimed Show
Published 11/03/2021, 1:11 PM EDT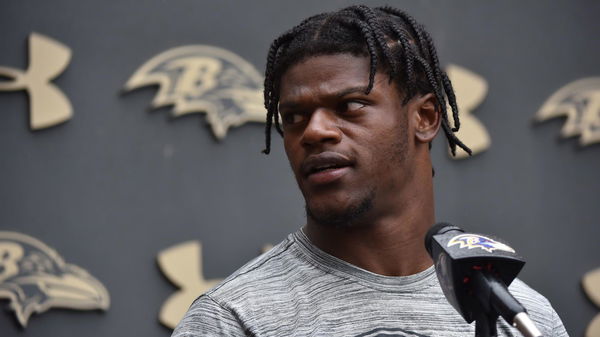 ---
---
Life is unfair at times. Anything can drown your spirits and make you feel like you have hit the rock bottom. Be it losing your job before the holiday season or a villain from your favorite show being named after you, life can always come hard at you. Something similar happened with Lamar Jackson recently.
ADVERTISEMENT
Article continues below this ad
Baltimore Ravens' quarterback recently caught up with the highly acclaimed show BMF aka Black Mafia Family and took to Twitter to express his utter disappointment in knowing that one of the most dislikable characters in the show was named after him.
ADVERTISEMENT
Article continues below this ad
Lamar Jackson is unhappy about Eric Kofi-Abrefa's character from BMF being named Lamar
Black Mafia Family revolves around the real-life origin story of two brothers in 1980s Detroit who rose to become one of the most influential crime families. Lamar Silas, played by Eric Kofi-Abrefa, is a cold-blooded maniac who shows no remorse. Eric Kofi-Abrefa's character is literally the embodiment of a human being with no virtues.
Not divulging further into the plot, one thing is certain that his character is amongst the most dislikable character in the entire series. Lamar Jackson, who shares his name with the character, was obviously disappointed by the parallel. Hence, he took to Twitter to share his disappointment. "Why buddy from BMF got my name," he angrily tweeted.
Lamar is Furious After Baltimore Ravens' Heavy Loss to Bengals
ADVERTISEMENT
Article continues below this ad
After the disappointing outing against the Bengals, Jackson spoke to the press and explained how individual mistakes, especially his, cost them the game. He pointed out three turnovers that shouldn't have happened and hoped that they learn and do better next time.
"Coach had to make that decision. I was cool with it for sure. Just trying to protect us and stuff like that, so I was cool with it. But it's definitely tough. I hate losing. You don't wanna see the score tilted and stuff like that for sure."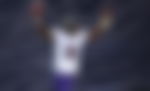 The Baltimore Ravens next play against the Minnesota Vikings on November 7th. Who do you think will win? Let us know!
ADVERTISEMENT
Article continues below this ad