Baltimore Ravens' Lamar Jackson Issues A Statement To The NFL After Taking Too Many Hits
Published 10/08/2021, 12:26 PM EDT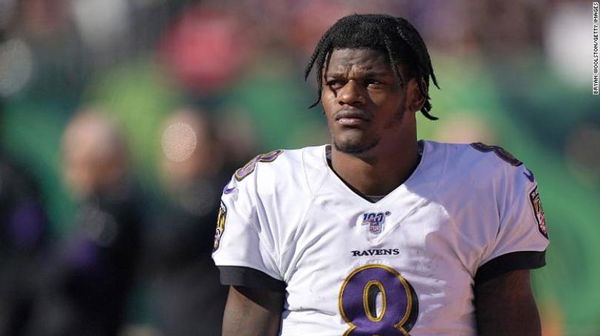 ---
---
The world of an NFL player is very dangerous. Each and every day, you put your body on your line [not pun intended], and for a sport as physical and dangerous as this, having adequate safety should be the utmost priority. Unfortunately, that's not the case, according to Lamar Jackson.
ADVERTISEMENT
Article continues below this ad
The cries of players and well-wishers have been integrated too slow and too little. Lamar Jackson off late has been accused by the fans of being protected by the league by not getting flagged for late hits. Jackson, in his latest interview, clears this misconception and advocates for more protection for all.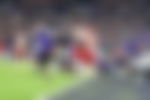 Lamar Jackson wants reforms
ADVERTISEMENT
Article continues below this ad
Brushing aside all the special treatment accusations, the Baltimore Ravens quarterback stated that not only he, but everyone should be protected. He acknowledged players tend to get aggressive unknowingly, so the referee should act accordingly as well.
"I just feel we should be protecting all quarterbacks in the league, not just myself," Jackson said. "Everyone should be included in that, especially while we're in the pocket — our leg area and stuff like that. Football is football. Guys get aggressive sometimes. Stuff happens. Probably don't mean it. I'd like the ref to throw the flag, though, if they catch it."
ADVERTISEMENT
Article continues below this ad
Jackson scoffs at the suggestion of wearing more pads
Asking the referee to be lenient certainly is a tough reform to ask. Whereas wearing more protective gear can certainly prove beneficial. When suggested, Lamar scoffed at the idea. "I feel like if I put on extra pads and stuff like that, I'll be looking like a Transformer," Jackson said. "I don't want to be slowed down."
In other news, Jackson returned to practice on Thursday after missing two practices because of a stiff back last week. Ravens coach John Harbaugh stated just before Jackson talked to reporters that no player is 100 percent at this stage in the season. "Probably 101," Jackson answered with a smile when asked what percentage he was feeling.
ADVERTISEMENT
Article continues below this ad