Baltimore Ravens' M&T Bank Stadium To Witness Psychedelic Light Shows During NFL Season Games
Published 11/25/2021, 5:27 AM EST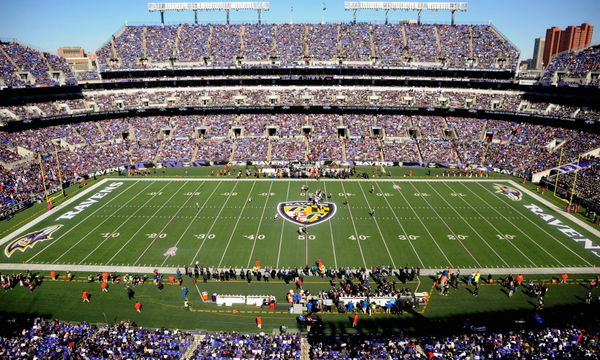 ---
---
The scenery at M&T Bank Stadium will be nothing short of spectacular this Thanksgiving. Baltimore Ravens will debut interactive color-changing bracelets. These bracelets will let the fans attending the match become a part of the game. 
ADVERTISEMENT
Article continues below this ad
What are these bracelets?
ADVERTISEMENT
Article continues below this ad
The Ravens will give a device to all the fans attending the game early on Sunday night. It will be an interactive color-changing bracelet. The fans can wear it on their wrist. Fans will experience the game like never before, thanks to the bracelets. These bracelets will have lights that will glow and change colors according to what is happening. These lights will glow in sync and make beautiful patterns. The colors will change every time a team makes a touchdown. These bracelets will be a big part of the halftime show during Thanksgiving weekend.
This is a special Thanksgiving for Baltimore Ravens
The Ravens will take on the Browns on Thanksgiving night. Lamar Jackson, Baltimore's top quarterback, will also return to action. Jackson missed the last game because of illness. He took part in the Wednesday morning workout. Jackson is positive he will return for the game against the Browns. "I think I'm fully back to normal. I want to go out there and just go, I don't want to go out there and limit myself or have coach limit me." Said Jackson in a recent interview. 
ADVERTISEMENT
Article continues below this ad
When asked about the illness, Jackson said, "I'm not worried about it because I've been healthy all my life," he adds, I've never had a problem being ill until I'm here. I don't really know that that is. Hopefully, that's done with."
Jackson's record against the Browns is very impressive. His total quarterback rating against Cleveland is 85.8. It is the second-highest QBR in the NFL of a single player against an entire team. Let us see if Lamar Jackson will improve his record. He is already an MVP candidate for this season. Lamar ranks 14th in passing and 8th in rushing yards.
ADVERTISEMENT
Article continues below this ad
When asked if he is 100 percent fit to play, Jackson responded he is 120 percent. For the Ravens fan, Thanksgiving is going to be very exciting this year.