Baltimore Ravens' OC Says Team Plans on Having Lamar Jackson More Often Under Center for 2021
Published 06/03/2021, 2:04 PM EDT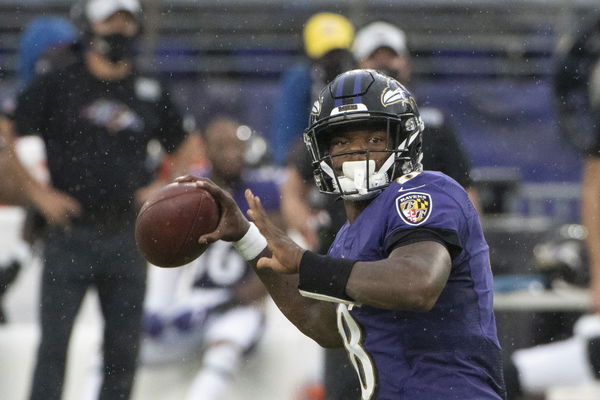 ---
---
Lamar Jackson is one of the most electrifying talents in the NFL. A perfect example of the next-gen dual-threat quarterback, Jackson's scintillating runs from the pocket are what makes him stand out from the rest. 
ADVERTISEMENT
Article continues below this ad
Winning the 2019 NFL MVP award, Jackson announced him on the world stage as a force to reckon with. But even after winning the highest individual laurel an active player can achieve in the league, many doubt whether Lamar Jackson truly is elite. 
ADVERTISEMENT
Article continues below this ad
Even the dual-threat quarterback tag is something that many refrain from attaching with Jackson. All of this doubt stems from the fact that he isn't considered typically as a passer. 
Often choosing to run the ball instead of passing it, some fans even dismiss Jackson as a quarterback altogether. But the Ravens are looking to correct this notion.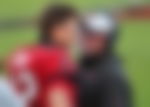 Jackson definitely can pass a football. And it seems like they'll be modelling their offense snaps in a way so as to aid his growth as a pocket passer.
A new routine for Lamar Jackson  
Talking to ESPN, Ravens' offensive coordinator Greg Roman talked about the side's plan to incorporate more plays with Jackson lining up under center in 2021.  
Part of the Baltimore Ravens' development plan with Lamar Jackson includes getting the quarterback under center more often in 2021.
"That is definitely going to be a part of what we do this year. The percentage of which I cannot state at this point," Roman said. "I don't know the extent of it. But we are working on it and evaluating it every day."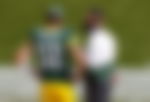 Through his three seasons in the league, Jackson has primarily lined up in shotgun formation. But deviating to a more center-based approach could help the quarterback up his passing game. 
Highlighting just how important the transition could be for Jackson's development as a passer, Roman said that the Ravens will definitely be incorporating it into their game plan for certain matches.
ADVERTISEMENT
Article continues below this ad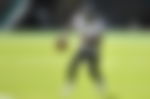 "It's something we will certainly use from time to time, some games more than others," Roman said. "I believe it's a very important part in the development of a quarterback from a forward standpoint."
Incorporating more passes into his game can help the QB in a multitude of ways. Not only will it make him more versatile but will also help him take fewer hits than when he decides to run the football.
ADVERTISEMENT
Article continues below this ad
And in return hopefully will ensure that he remains the Ravens' QB1 for the years to come. After all, no team wants to see their QB take hit after, after hit from the opposition's defense.