Tyler Huntley Found Out He Was Starting for Ravens in Hilarious Fashion; How did he Perform against Chicago Bears?
Published 11/22/2021, 8:31 AM EST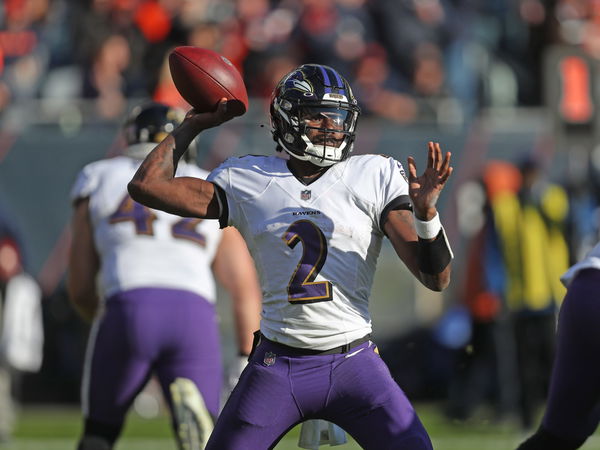 ---
---
Baltimore Ravens star quarterback Lamar Jackson missed his chance to make his first appearance against the Chicago Bears for the first time in his career because he was suffering from flu. Though during his absence, the Ravens offense was led by the backup quarterback Tyler Huntley.
ADVERTISEMENT
Article continues below this ad
Lamar's illness ruled him out just 90 minutes before the kickoff after he made a couple of throws in the field. Jackson missed practices on Wednesday and Thursday because of his illness. However, he was a full participant on Friday. And then suddenly, the Ravens made his status 'questionable' on Saturday.
ADVERTISEMENT
Article continues below this ad
Tyler Huntley, on receiving a text from Lamar
Just moments before the game, it was decided that Jackson will be sidelined against the Chicago Bears and backup QB Tyler Huntley will be taking charge of the ball. However, this news was broken to Snoop in a hilarious way, as Snoop got a text message from Lamar Jackson saying that it's his time to take the field and he will watch him from the sidelines.
"It's crazy," Huntley said. "I was walking toward the bus and Lamar texted me. He said, 'Go do your thing today and (I'll be) watching.'"
Huntley led the Baltimore Ravens for a 16-13 win over the Bears in his first NFL start. The rookie completed 26 of 36 passes for 219 yards and he led a winning drive with the likes of Devonta Freeman's 3-yard run with 22 seconds remaining, delivering on the crucial moments where his team needed him the most.
Lamar Jackson under the weather for quite a while
However, judging by Lamar Jackson's persistent struggle to keep himself healthy, this season has risen some talks of concern. He has missed six practice sessions this week, out of which four were because of illness. Even during his plane ride to Chicago, he was reported to be sick.
ADVERTISEMENT
Article continues below this ad
"He had it (Saturday), he had it on the plane," Harbaugh said. "He had it in the meetings at night. We were hoping that he was going to wake up feeling better. He didn't. He felt worse."
ADVERTISEMENT
Article continues below this ad
Although Lamar Jackson is known to be one of the most durable quarterbacks on the field as he has taken the most hits out of all the quarterbacks and yet only missed three games in his career so far. However it's his illness that makes everyone worry the most.