"Beast at WR, But This…." Fans Mock Antonio Brown After He Posts Video Of Him Rapping On Twitter
Published 05/30/2022, 5:24 PM EDT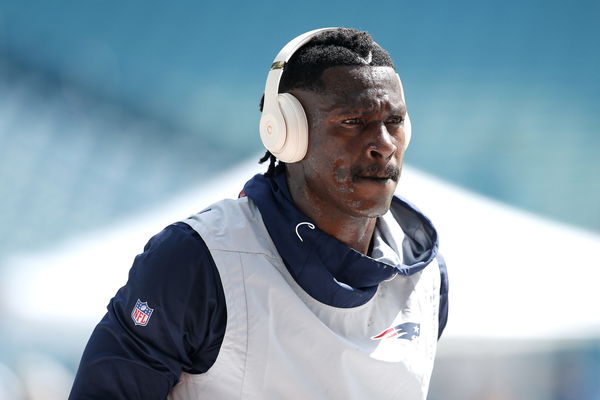 After stepping away from the pro-football league in a dramatic fashion, the 33-year-old, Antonio Brown, is venturing his career into the music industry. The wide receiver is friends with Rapper Kanye West, and over the past few months, the duo has been working closely to release music albums.
Meanwhile, the receiver has released a new video of him rapping on a stage to which fans couldn't control their emotions and started mocking him online.
ADVERTISEMENT
Article continues below this ad
The former Super Bowl Champion entered the music world by releasing a music album "Paradigm." Interestingly, the playlist wasn't restricted to some crazy rhymes. He dropped some truth bombs rapping between the music lines. "Sorry, ran up off the field/I'm boomin'. I Gotta get my money. I'm boomin'" Brown rapped.
He pointed at the walk-off incident during the BUCS Week 17 match and requested the team to release his contract incentives. The album featured some high-profile artists, including Fivio Foreign and Young Thug.
Recently, while talking to TMZ, the receiver announced that he would be releasing a music album featuring all athletes. According to him, many hidden talents in the sports fraternity are skilled enough to sing some beautiful lyrics.
"The next album has to be with all athletes. We want to give every athlete a chance to be creative — NBA, baseball, and football players. We just want to allow premier athletes to express themselves, and be themselves. I know a lot of players that do it on their own that may not put it out." Brown told the media outlet. But this new video snippet he released via Twitter welcomed a flow of fan reactions.
Fans react to Antonio Brown rapping in his new video
Even though Brown's future in the NFL is uncertain, he strives to remain unblemished. The seven-time Pro Bowler is clearly enjoying his time rapping in front of the audience. However, this time, it didn't seem to go so well with the fans. A Twitter user mentioned that Brown was an exceptional talent as a WR, but this was something that he couldn't assimilate.
Tsunami Cobb couldn't just believe his eyes.
Bruh what is this

— Tsunami Cobb (@otlvsthewrld) May 29, 2022
While this user joked that things can't get much worse than this.
Don't get much worse than this 😂😂😂🤦🏻‍♂️🤦🏻‍♂️🤦🏻‍♂️🤦🏻‍♂️😂😂😂😂

— Jarrett Troccoli (@TroccoliJarrett) May 28, 2022
Another user had a piece of advice for his wide receiver.
Mans need to stick to being an elite NFL receiver. And not this.

— h8_oatmeal (@Allroadstar) May 28, 2022
However, Nicole found this as an opportunity to offer a collaboration request.
Interested in speaking with you… #Donda collaboration!
Would you DM me? 🇺🇸♥️🎙

— Nicole Rickards (@Nicnozz8) May 29, 2022
Austin Riffle seemed to have despised the act.
Ain't nobody vibing

— Austin Riffle (@riffnasty27) May 28, 2022
ADVERTISEMENT
Article continues below this ad
Similarly, Jenkins pointed out that Brown's ankle seemed fine while he was jumping high.
His ankle looks fine to me !!😂😂😂

— George K. Jenkins (@swoooooooshes) May 29, 2022
ADVERTISEMENT
Article continues below this ad
As of now, none of the teams have signed him. They are many teams left in the NFL who require an effective wide receiver. But the question is; whether they will go for Brown, looking at his controversial past.
Watch This Story – Tom Brady Spills His Secret to Stay Healthy; Shares 6 Simple Steps
Edited By: Deepika Bhaduri