'Been Through the Process' – Ryan Fitzpatrick Talks About Playing for His Ninth NFL Franchise
Published 05/27/2021, 3:06 PM EDT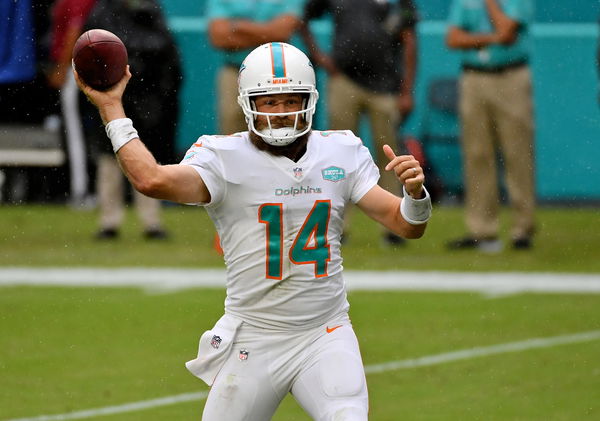 ---
---
Very few in the NFL have traversed the league quite like quarterback Ryan Fitzpatrick. Entering the league back in 2005 after being drafted by the Rams franchise, Fitzpatrick has gone on to play for seven other franchises. 
ADVERTISEMENT
Article continues below this ad
And in 2021, aged 38, the quarterback will be starting a new journey with the Washington Football Team. His ninth NFL franchise.
The WFT signed Fitzpatrick as a free agent in the offseason after he was released by the Miami Dolphins. At Miami, Fitzpatrick spent two seasons and threw a cumulative 33 touchdowns. 
ADVERTISEMENT
Article continues below this ad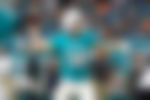 Playing mentor to young gun Tua Tagovailoa, Washington promises a different challenge. But it isn't one that Fitzpatrick hasn't faced before. Slated to be the starter for the Washington franchise, Fitzpatrick will have to get used to a new playbook, a new offense, and whole new culture. 
But then again, if anyone can do it, it's probably Ryan Fitzpatrick. 
Ryan Fitzpatrick acclimatized to change
Talking to ESPN about the challenges of fitting into a new team, Fitzpatrick said that it's something that given his career as a journeyman it's something he's gotten used to. 
"There are certain things that maybe it is easier for me to switch teams than other guys because I've done it so many times," Fitzpatrick said. "I've been through the process."
Fitzpatrick further stressed upon the need to have transparency and communication when fitting into a new team. And the OTAs are just the place to start that.
"Communication is a huge thing… When that communication gets crisp, you can play faster and that puts a lot of pressure on the defense," Fitzpatrick said.
"I have a lot of discussion with the guys up front. I'm the one having to catch up right now with what they're doing" he added.
ADVERTISEMENT
Article continues below this ad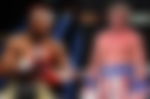 Fitzpatrick will face competition for the starting role from QB Taylor Heinicke. The backup put on a stellar show in the side's postseason outing against the Tampa Bay Buccaneers last season when starter Alex Smith was out injured. 
But Fitzpatrick knows a thing or two about competing for the starting role. The veteran has the habit of pulling off miracles when least expected. And perhaps that is what has made the league stand up and take notice of 'Fitzmagic' over the years.
ADVERTISEMENT
Article continues below this ad