Ben Roethlisberger Claims that Steelers Teammate Chase Claypool Has 'God-Given' Abilities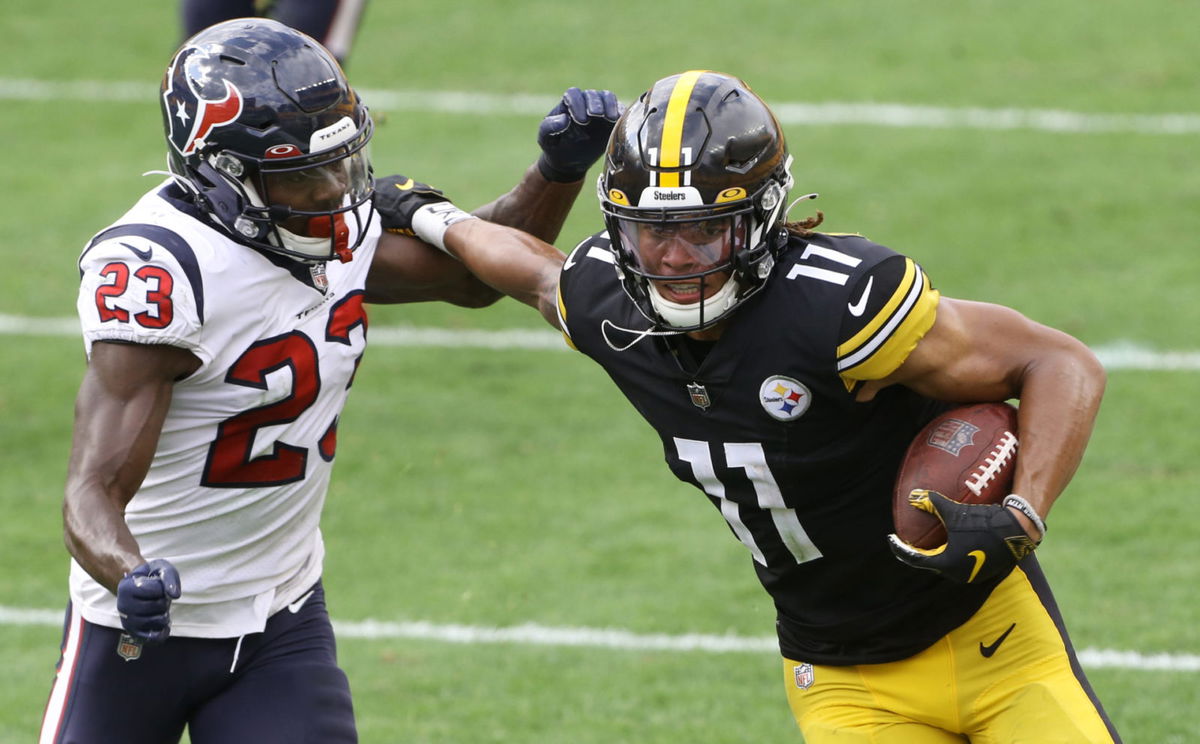 The Pittsburgh Steelers made their way to their fourth-consecutive win of the season on Sunday. Ben Roethlisberger continued his fine run as the Steelers bested the Carson Wentz-led Philadelphia Eagles by a 38-29 scoreline.
However, there was another Pittsburgh player who stood out apart from Big Ben, none other than young WR Chase Claypool.
The former Notre Dame player had four total TDs (three receiving) and seven catches for 110 yards against the Eagles. The young rookie is seemingly starting to make his presence known in the NFL this year.
However, quarterback Ben Roethlisberger believes that the 22-year-old is just getting started.
ALSO READ- LSU Rookies Joe Burrow, Clyde Edwards-Helaire Standout Performers in Debut NFL Season
Pittsburgh Steelers wide receiver Chase Claypool quickly rising up the ranks
The first rookie in #NFL history w/ 3 receiving TDs and 1 rushing TD in one game. He does it four games into a career that had no offseason program and limited together time. Just like Ben Roethlisberger said: Chase Claypool is very, very smart. #Steelers pic.twitter.com/YXQPhOlcDW

— Aditi Kinkhabwala (@AKinkhabwala) October 12, 2020
Pittsburgh Steelers quarterback, Ben Roethlisberger, offers his two cents on the young phenom. "He's talented. He has got some God-given abilities that not many people in this world have.
"He's big, fast and strong, and he's very, very smart. So we're able to do those things like move him around and do some things with him.
"That last touchdown is a perfect example. Changed the play, and he makes it happen. I just have to give him a little bit of a cue, and it's awesome," Roethlisberger told ESPN's Brooke Pryor.
Claypool makes an impression on head coach Mike Tomlin
Steelers coach, Mike Tomlin, was also appreciative of his young wide receiver. Here's what he said after Sunday's win over the Eagles.
He said, "A lot of it may not have to do with him and his skill set. We just have a well-balanced attack. We have guys the people have to account for, guys like JuJu [Smith-Schuster], guys like Diontae [Johnson], and [Eric] Ebron, and I just think that he's probably a good matchup for whoever people have assigned up [on] him from a man-to-man standpoint … and that's the strength of having a deep group of guys that are capable of making plays.
Highest-graded rookie WRs in Wk 5 ahead of MNF:
1. CeeDee Lamb – 91.0
2. Chase Claypool – 90.0
3. Laviska Shenault Jr. – 80.8
4. Henry Ruggs III – 78.4 pic.twitter.com/pAjUQwsSYC

— PFF (@PFF) October 12, 2020
"Week in and week out there are going to be different guys that step up and ascend based off the matchups that are presented, and he had a good matchup this week," Tomlin added.
Coach Tomlin's Steelers remain undefeated in the NFL after four games. They will play a high-flying Cleveland Browns outfit in Week Six. Big Ben, Chase Claypool, and the rest of the Steelers will be gunning to make the playoffs in 2020.
A win in their next two games will edge them a spot closer to making the post-season.
ALSO READ – "DK Metcalf is the Best in the World" – Russell Wilson Raves on About Star Wide Receiver