Bengals Fans in a State of Panic After Joe Burrow's Crucial Weapon Set to Miss Out on Week 12 Action
Published 11/26/2022, 8:00 PM EST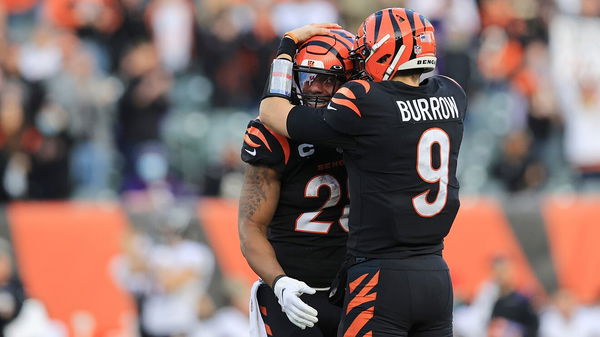 Last year's surprise Super Bowl finalist, the Bengals did not start this season all that well, as they lost their first two games. But they made a great comeback into the season, possibly eying for another run in the playoffs. However, they got a big setback as their running back Joe Mixon suffered a concussion in the previous game against the Steelers, leaving Joe Burrow and the Bengals in all sorts of trouble.
According to multiple reports, Mixon missed Friday's practice session. Moreover, he did not practice in the previous 2 practice sessions as well. Now the latest injury report completely ruled him out of this Sunday's game against the Titans.
ADVERTISEMENT
Article continues below this ad
Despite Joe Burrow playing well, Bengals fans are panicking over Mixon's injury
Earlier, NFL insider Adam Schefter broke the news about Mixon missing the game against the Titans. After that, many Bengals fans started to panic about the current situation.
Bengals' RB Joe Mixon ruled out for Sunday's game vs. Tennessee due to his concussion.

— Adam Schefter (@AdamSchefter) November 25, 2022
One Bengals fan became really upset about Mixon's injury, as he just started showing his football prowess.
Surprisingly, one Titans fan wished Mixon a speedy recovery as well.
Coming from a titans fan
I pray for a speedy recovery🙏🏾

— therealsuper_ (@superwastaken2) November 25, 2022
Meanwhile, fans are already predicting their own starting line-up for this Sunday.
With mixon out do I play Perine (vs Titans) Perice (Vs Miami) or Patterson (vs Washington) at RB 2?

— Riley Burke (@RileyBurke87) November 25, 2022
Another fan did the same.
Perine? Dameon Pierce? Palmer? Burks?… full ppr

— Edson A.G. (@DreamsofaOwl) November 25, 2022
One particular fan feels it will be a long day for the Bengals, as the Titans have a better defense.
Doesn't matter. Titans gonna shut down that backfield regardless. #1 rush defense. Plus the Bengals have no offensive line. Gonna be a long day. #titanup

— DanielBenz (@danbenz08) November 25, 2022
One Twitter user talked about Mixon's field goal probability in 2021.
Joe Mixon (RB) had an average of 0 field goal probability in 2021.

— NFL Statsbot (@nfl_statsbot) November 25, 2022
A Bengals fan is not happy about Mixon getting injured regularly.
Really just traded for this dude and gets injured in the two games i have him fml

— Bears(3-8)🐻⬇️ Cyclones(4-6)🌪️ (@Bears0119) November 25, 2022
On the other hand, a Twitter user showed concern for Mixon after Dolphins' quarterback Tua Tagovailoa suffered 2 back-to-back concussions earlier in the season.
Get well soon. I'm hoping the Tua situation wakes these teams up to the significance of head trauma.

— PixelQueen223 (@PixelQueen223) November 25, 2022
One fan feels Mixon's injury will be a big loss for the team. However, he feels confident about Samaje Perine and Chris Evans' ability to carry the load from Burrow and other players. 
That's a big loss, but there's still confidence that Samaje Perine and Chris Evans can carry the load. The Titans have a good front seven but a questionable secondary, so hopefully it's Burrow and the receivers that can take over this game with Chase back. https://t.co/pD8FXbwdmN

— Cameron Demler (@CJD22K) November 25, 2022
One more fan gave a shout-out to Chris Evans.
ADVERTISEMENT
Article continues below this ad
Notably, after Mixon left the game against the Steelers, Samaje Perine took his place and scored three touchdowns in the game. Certainly, he proved his worth to the fans and the coaches that he can also carry the load.
ADVERTISEMENT
Article continues below this ad
Meanwhile, Joe Burrow has been sensational this season, throwing 22 touchdown passes for 2890 yards in 10 games. He is one of the main reasons the Bengals are eying for another playoff run after a tremendous last season. On the other hand, the Bengals' WR Ja'Marr Chase is back in the practice session, which could give the fans massive joy. However, it is still unclear whether he will play against the Titans.
Watch This Story: Joe Burrow blesses the practice field for Cincinnati Bengals looking nothing like a man back from surgery