'Best in the League, Baby': Tyreek Hill Has High Praise for Tua Tagovailoa After WR Breaks Another NFL Record
Published 11/08/2022, 3:39 AM EST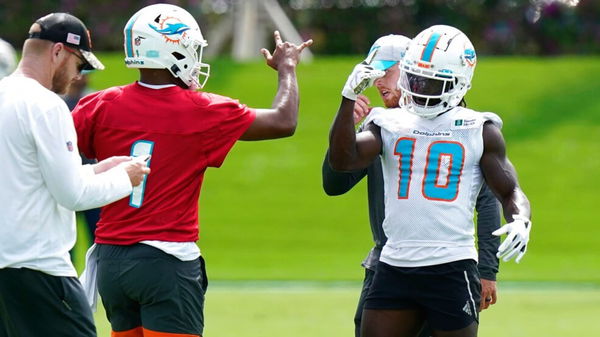 This Sunday, the Miami Dolphins beat the Chicago Bears to get their third win in a row. The dolphins' two star players, Tyreek Hill and Tua Tagovailoa, linked up well to get another win in this memorable season so far.
Notably, Hill has been immense for the Dolphins this season, as he became the first player to surpass 1,000 receiving yards in this current season. On Sunday, the wide receiver had his first touchdown since week 2 and he celebrated in style. After the game, he did not forget to mention his quarterback, Tagovailoa, and his importance.
ADVERTISEMENT
Article continues below this ad
Tyreek Hill praises his teammate Tua Tagovailoa after achieving a unique NFL record
After the game against the Bears, a reporter asked Hill about his signature backflip celebration after getting the touchdown. In reply, he said, "I haven't scored since and I believe since week 2, man. For me, it's been able to get in the end zone man, I just want to say, I thank God man, for blessing me with this amazing opportunity, you know. Blessing me with a chance to play with a special group of young guys. You know Tua (Tagovailoa) and Jalen (Waddle) and the whole offense man, the whole court."
When asked about Tagovailoa, Hill said, "He's the best in the league, baby. He's the most accurate quarterback in the league, know that."
Notably, the former Chiefs' WR, Hill joined the Dolphins this off season. Many doubted his capabilities while he was in the Chiefs. After putting in some insane numbers for the Dolphins this season, he has probably changed a few people's minds. On Sunday, he had 143 receiving yards for 7 catches. Notably, he has achieved more than 140 receiving yards five times this season. After 9 games this season, he has a total of 1,104 receiving yards, which is a unique record.
ADVERTISEMENT
Article continues below this ad
The Dolphins' defense almost cost them the game
While the Dolphins were looking for a comfortable win, in the fourth quarter, the Fins almost had a panic attack, as the Bears started to make a comeback in the game. Certainly, their defense almost let them down once again this season.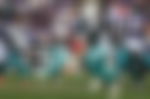 Thankfully, they had Tagovailoa and Hill in their offense to bail them out. In that game, Tagovailoa threw 302 yards for 3 touchdowns. He already has 15 touchdowns in 7 games so far, despite missing 2 games due to concussion. After this win, they are in the third position in the AFC East, behind the Bills and the Jets. However, they still have a great chance to qualify for the playoffs and could be the dark horse this season.
ADVERTISEMENT
Article continues below this ad
Watch This Story: Tyreek Hill made to look tinier and weaker than ever next to muscle beach bodybuilder who benched 300 lbs with ease