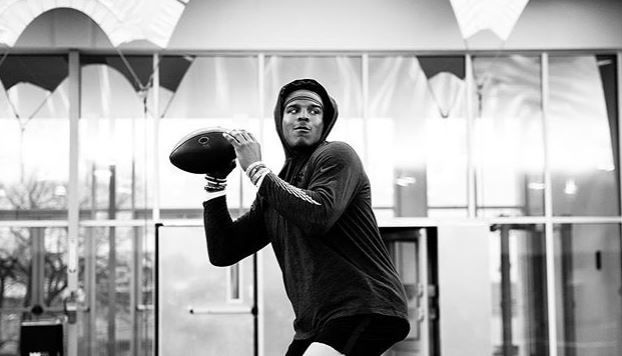 The recent Cam Newton IG post immediately grabbed headlines earlier this week. 'It's not about money, it's about respect' read the caption as reports about his New England Contracts came to light. The former Carolina Panthers man reportedly signed a one-year contract worth $1.75 million with Bill Belichick and the New England Patriots ahead of the 2020 season.
However, only $550,00 of that amount is guaranteed. Additionally, Cam can earn up to $6.45 million in incentives and per-game roster bonuses. However, Skip Bayless is not happy with how the three-time Pro Bowl player has been treated by his new employers.
Skip Bayless critical of Cam Newton 'bare minimum' deal with the Patriots
In the most recent episode of Skip and Shannon: UNDISPUTED, host Skip Bayless offered his reaction to Cam Newton's contract situation with the New England Patriots. He said "My big picture takeaway from Cam's IG post yesterday was, it hit me as 'profoundly sad'. I told you last Monday just after we heard the news about Cam to Belichick. I said I'm not sure whether to offer congratulations or condolences."
"Sad to see such little money being paid to a man who won the NFL MVP trophy just five seasons ago. He terrorised this league. He got that team (Carolina Panthers) 15-1 to the Super Bowl. However, he did not play well in the Super Bowl, he played better than Peyton did, but he did not play well. The Denver defense took the game over but he still got to the Super Bowl."
Skip Bayless believes the former NFL 2015 MVP dinner deserves a better deal
Bayless further spoke about how a player of Cam Newton's caliber deserved a better deal despite his poor injury record. Skip said "In the end, your salary can pay you respect. Obviously, it's the ultimate measuring stick in this society, right? It's how we measure the respect your employer gives you. Not always, but mostly.
"So Bill Belichick got away by waiting it out until the entire league rejected the former MVP. He got away with paying him the absolute rock-bottom bare minimum for a player who has spent so many years in the league."
The 31-year old will battle against Jarett Stidham, J'Mar Smith, and Brian Hoyer for a starting berth with the Patriots this season. Without a doubt, Newton will be eager to silence his doubters when he steps onto the field later this year. If his recent workout videos are anything to go by then we expect the 2015 NFL MVP Cam Newton to return at the Gilette Stadium.