Bizzare: How a Tipsy Jerry Jones Cut Terrell Owens From the Cowboys After Inviting Him to Dinner
Published 03/02/2022, 7:00 AM EST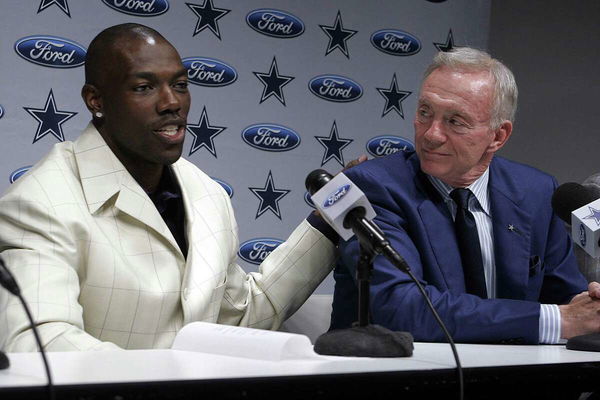 Jerry Jones, the football team owner synonymous with his Dallas Cowboys, is known for being a 'wild card' of sorts. Jones' words and actions are often the points of contention and controversy for the team. It seems like in one such display of unobvious behavior, Jones released ace wide receiver, Terrell Owens.
Terrell 'T.O.' Owens played with the Dallas Cowboys for three seasons. From 2006 to 2008, T.O. was one of their premier offensive weapons. They did not get any playoff success with him on the team, but their regular-season record was a respectable 31-17. And he had recently signed an extension with America's team. Thus, what happened next was even more surprising. Nobody saw it coming. Especially not Owens.
ADVERTISEMENT
Article continues below this ad
While talking to former Tight End-turned-broadcaster Shannon Sharpe, T.O. opened up about his exit process at Dallas. The former-Philly WR narrates that he had no idea how it all happened the way it happened.
Read More: Deion Sanders Draws Comparisons Between His Retirement and Tom Brady Retirement From The NFL
As per Owens, he had just signed a four-year extension, so there was no reason to worry. He was chilling in the off-season without a care in the world because, as per the receiver, he was set for the next outing on-field. That is when he got the call.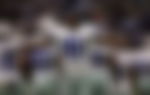 The HOF receiver recalls, "Jerry Jones calls me… And dude, I feel honored at the call because I've been on teams where I've heard how coaches, GMs, and owners talk to the vets of the team. Kinda, asking their input."
"He called me and he was like 'Yo, what do we need to get over the hump?' I gave him my assessment of what we needed to do based on the three years I had been there. I got an extension, I was going into the off-season."
All looked up and up
So Owens had no idea what was about to happen. The man was being offered an extension. He even got to speak his mind on what lacks in the team. Why would anyone think things aren't going well?
T.O. was staying in Florida where his agent also resided. And there was this big owners' meeting in Florida. T.O. continued, "So my agent called me and he's like, 'Yo, Jerry's coming to town, he wants to talk to you."
So, T.O. and his team were told that the Cowboys owner wanted to talk to them about the upcoming season. Thus, Owens and his agent made their way to a hotel where Jerry and his son, Steven Jones awaited.
Jerry Jones draws a line in ink
Owens further narrates, "So we just started talking, and I could tell that Jerry, you know, had a couple of them. I could just tell. But I didn't think much of it."
As per Terrell, the conversation starts, and Jerry begins talking about the Cowboys' future. He starts drawing a line with a pen, in the middle of the cloth spread out on the table.
T.O. said, "And then he just started differentiating, just separating… like everything, 'the cowboys' over here and he put T.O over here."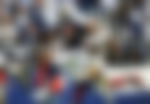 ADVERTISEMENT
Article continues below this ad
Jerry Jones seems to have been pointing out what he likes about Tony Romo and the cowboys and set it on one side. While he was simultaneously explaining to T.O in a totally Jerry Jones manner that he no longer wants Owens to be part of the team.
T.O recalls, "He said, 'We gotta part ways. (pauses) That's how I got cut." 
Jerry drew the line in ink and that was that for Owens. The wide receiver thought it was a joke at first. It was all too surreal for the then-future HOFer. After parting ways, he moved to Buffalo where T.O. played for a season. In the next season, in 2010, T.O played for the Bengals after which he retired from professional football.
ADVERTISEMENT
Article continues below this ad
His long, eventful NFL career came to an unsatisfying end. Maybe with America's team, he could have gotten them to the promised land. Alas, now we will never know.
Watch This Story: Chase Elliott Reacts as 2022 Super Bowl Champions Visit Him at Fontana