Blockbuster Deal for Jimmy G, Davante Adams Gets Major Help in WR Room With $33Million Vegas Trade
Published 03/14/2023, 1:47 PM EDT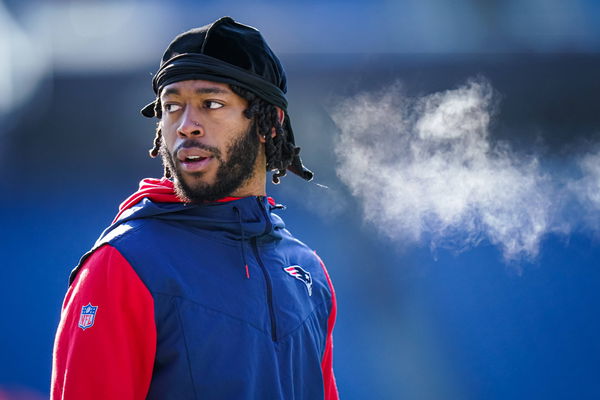 The Las Vegas Raiders are in full reunion mode. The franchise is determined to weaponize its offense this off-season and its intent is visible in its choices. However, it seems the Raiders are going for the players with old synergy. After former San Francisco 49ers quarterback, Jimmy Garoppolo, reunited with Josh McDaniels with yesterday's reports, now it's free agent wide receiver from New England, Jakobi Meyers.
The Raiders signed the former undrafted free agent on a three-year deal in an all-out attempt to provide the right offensive resources to their new quarterback. And this is definitely some major help on the opposite side for Davante Adams.
Jakobi Meyers to the Raiders confirmed
Head coach Josh McDaniels is loving it, having his QB and wide receiver from his offensive coordinating days in New England back in the borough. According to NFL Network Insider Ian Rapoport's reports, the $33 million 3-year deal contains $21 million as guaranteed. That's a significant jump from his first $1.76 million signing with a $10,000 signing bonus. And his $3.98 million unrestricted free-agent contract last year, both with the New England Patriots.
The leading receiving yards leader for the Patriots for the past three years, Meyer's 235 receptions over 2758 yards and eight touchdowns are the highest ever for an undrafted player in New England history. And Raiders General manager and former Patriots executive, Dave Ziegler had to have this coveted high-ranked free agent 26-year-old WR.
Sources: The #Raiders are signing #Patriots FA WR Jakobi Meyers to a 3-year deal with $33M with $21M guaranteed. Another NE-Las Vegas tie-in, and a weapon for Jimmy Garoppolo. The deal was negotiated by Drew Rosenhaus and Robert Bailey. pic.twitter.com/tOUDNVrDUF

— Ian Rapoport (@RapSheet) March 14, 2023
Sports agent Drew Rosenhaus and NFL executive Robert Bailey also helped in the negotiations to bring in some aid for Jimmy G.
This addition will help more than just Jimmy Garoppolo
It didn't work out between Fresno state buddies Derek Carr and Davante Adams. And the 6x Pro Bowler and leading touchdown receiver from 2022 will need some getting used to with the Garoppolo ways. And Jacobi can fit in perfectly, joining tight end Darren Waller and wideout Hunter Renfrow in the receiving options. The only thing Meyers has to be careful about while facing the Patriots next time is that he doesn't repeat the calamitous lateral pass saga that led to the Raiders' last-second win last season.
Davante can relax a little after things didn't exactly go how he envisioned. Derek is now in New Orleans. And Aaron Rodgers may soon be on the Broadway-bound road to the NY Jets.
WATCH THIS STORY: Gymnast queen Simone Biles and NFL fiance Jonathan Owens opt for romantic staycation at luxury house
Garoppolo also signed a three-year deal with a maximum possible payout of $77.25 million. And with Meyers' contract running for a similar period, the next three years appear to be crucial for the franchise and their dreams to regain the lost Black & Silver glory.